Shares of TerraForm Power Inc. (NASDAQ: TERP) have gone through the wringer in the last two years, due to the collapse of its sponsor, SunEdison, and TerraForm's eventual buyout by Brookfield Asset Management (NYSE: BAM). 
But the yieldco will still be publicly traded even after Brookfield takes control. With that in mind, there are some things investors should know about the company. 
What happened after the fall
TerraForm Power's story goes back to 2014 when it was the centerpiece of SunEdison's effort to build a renewable energy super major. Of course, those plans fell apart when SunEdison went bankrupt, and TerraForm Power's stock plunged as a result.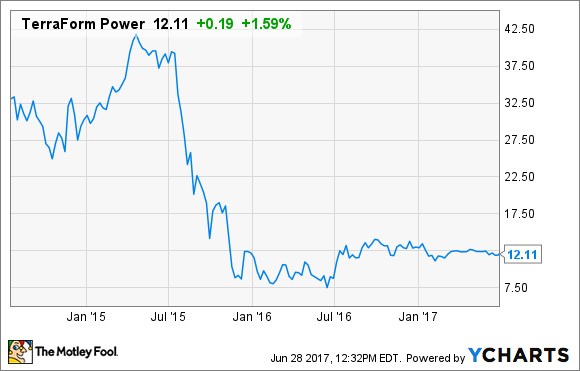 The decline was fast and furious, but over the past year, shares of TerraForm Power have been remarkably stable. That's due in large part to the fact that Brookfield Asset Management agreed to buy the yieldco for $11.46 per share. And with shares trading above the offer price, the payout will be prorated; shareholders will get $6.44 in cash (including a $1.94 special dividend) and 0.53 shares in the new TerraForm Power. 
Where do we go from here? 
The current share price of TerraForm Power implies that shareholders think there's significant value above the $11.46 Brookfield offered. Its valuation implies a $10.74 per share price for the new TerraForm Power once the transaction is complete. That equates to a $1.7 billion equity valuation and $6.6 billion total enterprise value, figures supported by the performance of its renewable energy projects, which has stabilized in the last few quarters, as you can see below.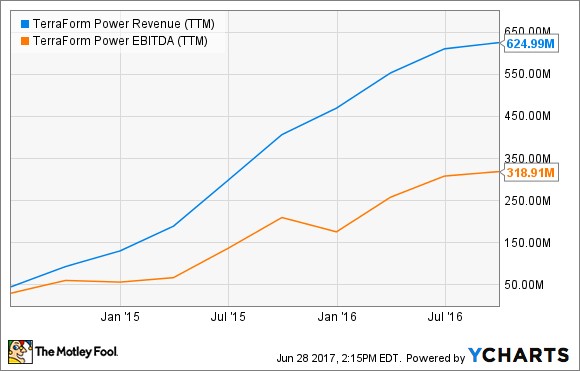 TERP Revenue (TTM) data by YCharts
In the presentation that accompanied the acquisition announcement, management said that TerraForm Power would have about $120 million in cash available for distribution (CAFD). That amount could grow if Brookfield can lower TerraForm Power's operating costs, but right now, the implication is that the stock will have a 7.1% dividend yield given the CAFD and the equity value. 
The biggest challenge facing Brookfield and TerraForm Power
The final chart follows TerraForm Power's debt load through its most recent quarterly report. At that point, it had over $4 billion in debt, and the uncertainty surrounding the yieldco's debt financing is what ultimately ended up crippling SunEdison and TerraForm Power in 2016.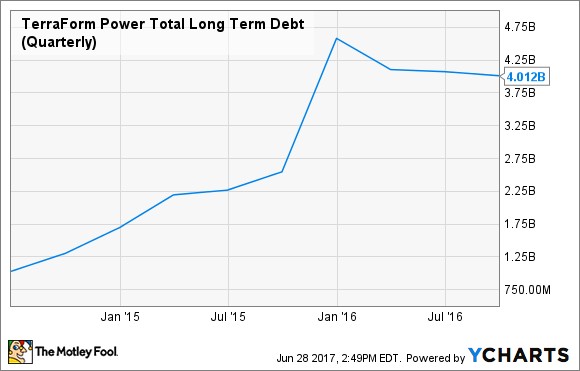 TERP Total Long Term Debt (Quarterly) data by YCharts
The majority of the company's liabilities are in the form of term debt and senior notes that carry interest rates between 6.05% and 6.63%. That's a relatively high interest rate for the low-risk projects that back the yieldco's cash flow, and Brookfield should be able to lower these interest rates long-term. 
If we just take the $4.06 billion in principal of debt reported at the end of the third quarter of 2016 and multiply it by the current 5.81% blended interest rate, we get $236 million in interest alone on the current level of debt each year. Each 10 basis points Brookfield can reduce those interest rates will free up over $4 million in cash annually, which gives it a big opportunity for value creation.
10 stocks we like better than TerraForm Power
When investing geniuses David and Tom Gardner have a stock tip, it can pay to listen. After all, the newsletter they have run for over a decade, Motley Fool Stock Advisor, has tripled the market.*
David and Tom just revealed what they believe are the 10 best stocks for investors to buy right now... and TerraForm Power wasn't one of them! That's right -- they think these 10 stocks are even better buys.
Click here to learn about these picks!
*Stock Advisor returns as of June 5, 2017

Travis Hoium has no position in any stocks mentioned. The Motley Fool has no position in any of the stocks mentioned. The Motley Fool has a disclosure policy.