Allergan plc's AGN second-quarter 2017 earnings came in at $4.02 per share, beating the Zacks Consensus Estimate of $3.95 by 1.8%. Earnings rose 20% year over year driven by higher revenues and operating profits
Revenues came in at $4.01 billion, up 8.8% from the year-ago period, and beat the Zacks Consensus Estimate of $3.95 billion by 1%.
While key products like Botox and new products like Vraylar, Namzaric and Viberzi did well in the quarter, sales were once again hurt by sales erosion from Namenda XR and loss of exclusivity, mainly from Asacol HD and Minastrin. Also, lower sales of key dry eye disease drug, Restasis hurt the top line.
Second-quarter revenues, however, gained from the addition of Alloderm from LifeCell (Jan 2017) and CoolSculpting body contouring system from ZELTIQ (Apr 2017) acquisitions.
Adjusted operating income increased 16% to $1.9 billion in the quarter.
Selling, general and administrative (SG&A) expenses rose 17.1% to $1.22 billion in the quarter, primarily due to higher promotional spend to support new product launches. R&D expenses increased 14.2% to $393.9 million to support an advancing pipeline.
Segment Discussion
The company reports revenues under three segments – U.S. General Medicine, U.S. Specialized Therapeutics and International.
U.S. Specialized Therapeutics' net revenues increased 15.2% to $1.72 billion driven by strong growth in Botox and the addition of LifeCell's Alloderm and ZELTIQ's CoolSculpting businesses. Botox (cosmetic) raked in sales of $210.3 million (up 10.7%). Botox Therapeutic revenues were $346.9 million, up 17.2%. In addition, Juvéderm Collection of fillers rose 7.3% and Ozurdex sales increased 15.8%, which contributed to the upside. Alloderm added $84.6 million while CoolSculpting added $78.9 million to sales in the second quarter.
Importantly, Restasis sales declined 9.4% to $336.4 million in the quarter due to unfavorable trade buying patterns. We remind investors that Shire plc SHPG launched its dry eye disease drug, Xiidra last year. There have been investor concerns about Xiidra posing strong competition for Restasis. The company expects stable Restasis revenues this year.
U.S. General Medicine net revenue declined 1.5% to $1.43 billion in the reported quarter with sales declining in the Diversified Brands, Women's Health, and the Gastrointestinal franchises. Anti-Infectives sales rose 7.4% to $67.8 million while Central Nervous System sales rose 9.2% to $346.6 million.
Established products like Linzess and Lo Loestrin as well as new products like Viberzi, Namzaric and Vraylar did well in the quarter. Linzess' sales rose 11.5% in the quarter to $167.8 million, driven by strong demand and continued OTC conversion.
However, lower Namenda XR sales hurt the performance of the CNS franchise. Namenda XR sales declined 28.7% to $118.7 million in the quarter due to lower demand, lower pricing and shift of promotional efforts to Namzaric. The company does not expect a generic version of Namenda XR to be launched until first quarter of 2018, delayed from the prior expectation of fourth quarter of 2017. Also, Allergan does not expect any generic version of Estrace Cream to be launched this year.
Namzaric, a once-daily, fixed-dose combination of Namenda XR and Aricept, recorded sales of $33.4 million compared with $23.6 million in the previous quarter.
Asacol/Delzicol sales declined 61.9% to $45.6 million due to a reduction in demand for Ascaol HD, following the launch of an authorized generic in Aug 2016 as well as lower demand for Delzicol.
In the Women's Health segment, Minastrin 24 revenues declined 86.3% to $11.4 million in the quarter due to loss of exclusivity in Mar 2017.
The International segment recorded net revenue of $858.8 million, up 16.2% from the year-ago period, driven by growth in Facial Aesthetics, Botox Therapeutic and the addition of LifeCell and CoolSculpting.
2017 Outlook Up
The company raised its previously issued earnings and sales guidance for 2017.
Allergan expects total revenue in the range of $15.85 billion to $16.05 billion compared with $15.8 billion to $16.0 billion previously. Currency headwinds are now not expected to hurt revenues versus a negative impact of approximately $100 million expected previously.
Adjusted earnings per share are expected in the range of $16.05–$16.45 compared with $15.85–$16.35 previously.
Adjusted gross margin is expected between 86.5% and 87%. R&D expenses are expected to be approximately $1.6 billion (maintained). SG&A spend is expected between $4.5 billion to $4.6 billion compared to $4.45 billion and $4.55 billion previously.
Our Take
Allergan did fairly well in beating estimates for both earnings and sales in the second quarter. The company also raised its 2017 outlook. Shares were down slightly in pre-market trading. However, so far this year, Allergan's share price is up 19.2% against the industry's decline of 1.9%.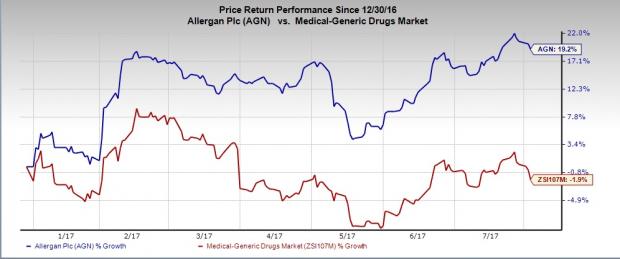 Allergan is reshaping its portfolio through strategic acquisitions. The drugmaker sold its generics and Anda distribution business to Teva Pharmaceutical Industries Limited TEVA in Aug and Oct 2016, respectively in order to focus on its branded segment.
Allergan also boasts a strong branded pipeline with nine product launches planned for 2017. Allergan is extending its R&D pipeline to adjacent categories like NASH, Parkinson's disease, and gene therapy with many promising phase II/III programs in development.
We are also encouraged by Allergan's focus on building its biosimilars pipeline. Allergan has a collaboration agreement with Amgen, Inc. AMGN for the worldwide development and commercialization of three oncology antibody biosimilars, which include biosimilars of Roche's cancer drugs Herceptin and Avastin.
However, generic competition for legacy brands like Namenda IR/XR and Asacol HD as well as new competition for key growth drivers, Restasis and Linzess, is an investor concern.
Allergan carries a Zacks Rank #3 (Hold). You can see the complete list of today's Zacks #1 Rank (Strong Buy) stocks here.
More Stock News: Tech Opportunity Worth $386 Billion in 2017
From driverless cars to artificial intelligence, we've seen an unsurpassed growth of high-tech products in recent months. Yesterday's science-fiction is becoming today's reality. Despite all the innovation, there is a single component no tech company can survive without. Demand for this critical device will reach $387 billion this year alone, and it's likely to grow even faster in the future.
Zacks has released a brand-new Special Report to help you take advantage of this exciting investment opportunity. Most importantly, it reveals 4 stocks with massive profit potential. See these stocks now>>
Want the latest recommendations from Zacks Investment Research? Today, you can download 7 Best Stocks for the Next 30 Days.
Click to get this free report
Allergan PLC. (AGN): Free Stock Analysis Report
Amgen Inc. (AMGN): Free Stock Analysis Report
Shire PLC (SHPG): Free Stock Analysis Report
Teva Pharmaceutical Industries Limited (TEVA): Free Stock Analysis Report
To read this article on Zacks.com click here.
Zacks Investment Research