UPDATE: According to the latest feed from OccupyCentral, protesters are refusing to leave the Lung Wo Road government building blockade...
Protesters in Lung Wo Rd are returning to the Chief Exec's office despite earlier announcement some were leaving pic.twitter.com/YMkBQQCLfb

— Occupy Central ???? (@OCLPHK)

https://twitter.com/OCLPHK/status/518720289572544515
This follows a night of violence...
There were ~6 cases of scuffling in Hong Kong's Mong Kok area, Senior Superintendent Kwok Pak-chung says to reporters.
Police to use appropriate force if protesters charge cordon: Kwok
Police has zero tolerance of violence: Kwok
*HONG KONG POLICE APPEAL TO CROWD TO DISPERSE IN MONG KOK
*H.K. POLICE SAY WON'T TOLERATE ACTS ENDANGERING PUBLIC ORDER
And then...
*HK POLICE USED PEPPER SPRAY IN MONG KOK CROWD CONTROL: CABLE TV
Police spray an elderly Chinese resident in the face at point blank range..

*H.K. POLICE COMMANDER ORDERED TEAR GAS TO PREVENT INJURIES: SMP
Police used tear gas on demonstrators to prevent possible stampede that might've caused injuries or deaths, the Sunday Morning Post reports, citing the senior superintendent who gave the order.
Name of officer withheld at request of police
Officer said order given without political motive, HK Chief Executive Leung Chun-ying not notified
Order given as about 200 protestors sought to break through police cordon
Tear gas used as alternative to baton attack, which may have led to many injuries
Officer has no regrets, would make same decision again under same circumstances
Officials are concentrating their effort on swaying thehearts and minds of the non-youth in Hong Kong by explainingjust how bad disruptions will be of tomorrow's deadline passes...
*H.K. PROTESTS DELAYING EMERGENCY SERVICES, OFFICIALS SAY
*H.K. FIRE TRUCKS 30 SECONDS-3 MINUTES SLOWER: FIRE OFFICIAL
*HK ROAD BLOCKAGE COULD CAUSE SEVERE CONSEQUENCES: OFFICIAL
*H.K., KOWLOON TRAFFIC EXPECTED TO BE SEVERE TOMORROW: GOVT.
*28 BUS ROUTES SUSPENDED, 200 REDIRECTED IF BLOCKAGES REMAIN: SU
But, as The Telegraph notes, Hong Kong could face decades of protests...
Hong Kong faces decades of unrest unless China allows real democratic reforms, one of its leading politicians warned, as mass protests continued to lock down the city.

 

"Almost 95 per cent of the crowd that has gathered every night for seven nights is between 15 to 25 years old," said Alan Leong, 56, the leader of the pro-democratic Civic party.

 

"These people will be around for a long time. They will be masters of Hong Kong for the next 40 to 50 years.

 

"I challenge Xi Jinping (the Chinese president) to answer this question: even if you bring your weight to bear and somehow get your proposal passed, how are you going to govern Hong Kong when this is your public for the next five decades?"
For now the protests rank high on pro-democracy demands but on the low-side of participation (acording to The Economist)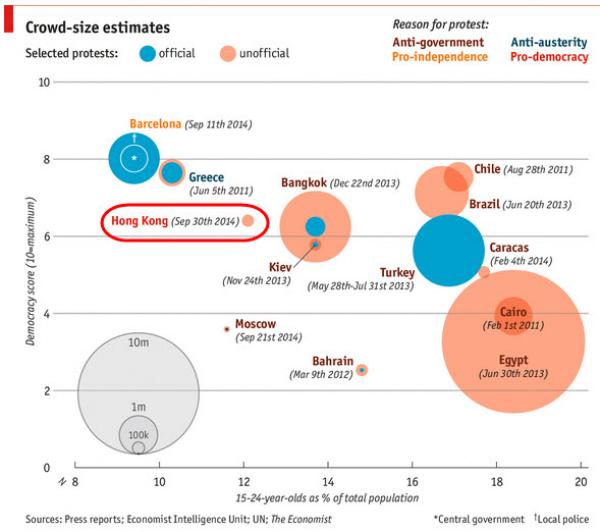 *  *  *
But it's the weekend so we end on an upbeat note...