CEO tightens spending ahead of Model 3, SolarCity; shares rise
Automaker keeps 50,000 forecast for second-half shipments
Tesla Motors Inc. surprised investors with its first profit in eight quarters after Chief Executive Officer Elon Musk urged employees to cut costs and deliver every car they could to boost results and prove Wall Street skeptics wrong.
The electric-car maker's shares rose about 4 percent in late trading after it posted third-quarter profit excluding some items of 71 cents a share, instead of the average 54-cent loss projected in a survey of seven analysts. Forecasters had hustled in recent days to adapt their models as Tesla hewed closer to GAAP reporting methods.
"This was a great three months for the company," said Joe Dennison, associate portfolio manager at Seattle-based Zevenbergen Capital Investments LLC, which owns 584,000 shares of Tesla. "Despite daily headlines and skepticism, Tesla continues to widen its technology lead and make steady progress towards its goals of mass production."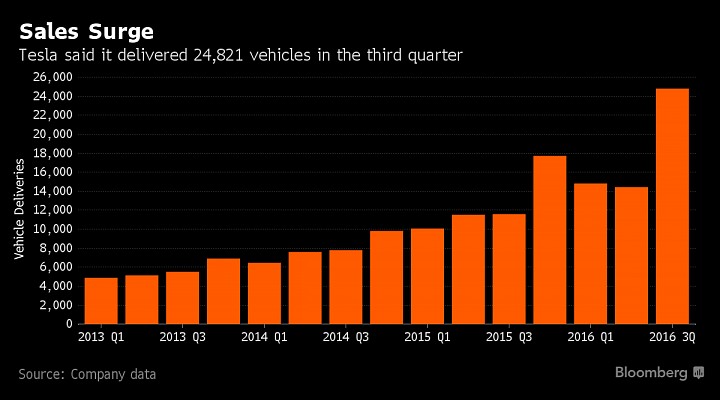 The results provide some vindication for Musk, who tempered Tesla's cash burn ahead of a Nov. 17 shareholders vote on the proposed merger with SolarCity Corp. That deal has drawn criticism as a potential distraction as Tesla spends heavily to prepare its California factory for the high-volume Model 3 car...
More