USD/CAD has been consolidating throughout August. It is apparent now that it was forming an expanded range, with higher highs and lower lows but no particular direction. The clustering of the 200-, 100-, and 50-period simple moving averages (SMAs) in the 4H chart reflects this sideways mode. The RSI has been swinging between 30 and 70, also showing momentum started in both directions, but failed to maintain.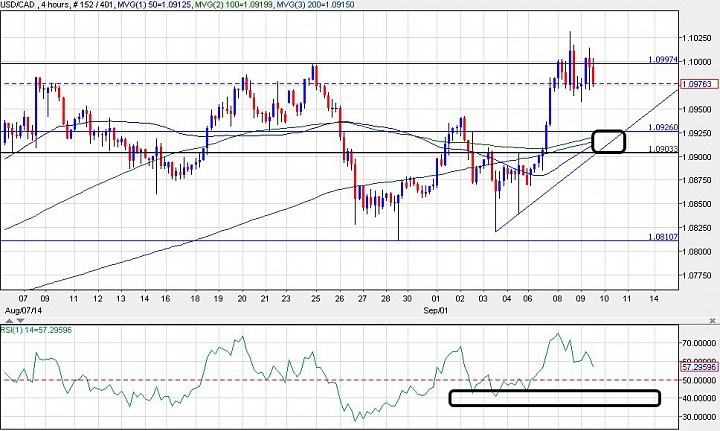 (USD/CAD 4H Chart 9/10)

When we look at the 4H chart, we see that price action is once again making a new high, breaking the 1.10 handle. Now it is consolidating around 1.10, and the question is whether the consolidation mode is still developing, or if a bullish continuation outlook is now taking over. Remember, the prevailing trend before the August consolidation was bullish. 

If USD/CAD is indeed in bullish continuation, it should provide support in the 1.09-1.0925 area. Here we have the central  pivot and the cluster of SMAs. 

So if price dips toward this area, and the 4H RSI approaches 40 look for support. Then, a rally should confirm the bullish continuation scenario, which first has the 1.1050 highs from April in sight.

A break below 1.09 however might put USD/CAD back into consolidation mode, with near-term pressure down toward the 1.08 handle.