ExxonMobil Corporation XOM posted strong third-quarter 2017 results, courtesy of increased price realizations from liquids and gas and improved margins at the refinery business.
The company reported earnings of 93 cents per share, which surpassed the Zacks Consensus Estimate of 89 cents. Also, the bottom line improved from the year-ago quarter level of 63 cents.
Total revenue in the quarter increased to $66,165 million from $58,677 million in the year-ago quarter. Moreover, the top line surpassed the Zacks Consensus Estimate of $63,508 million.
Operational Performance
Upstream: Quarterly earnings at the segment were $1.6 billion, showing an improvement of $947 million from the year-ago quarter. Increased price realizations from liquids and gas led to the outperformance.
Production averaged 3.878 million barrels of oil equivalent per day (MMBOE/d), marginally higher than 3.811 MMBOE/d in the year-ago quarter. Ramp up in Australian projects supported the upside.
Liquid production improved slightly year over year to 2.280 million barrels a day. However, natural gas production was 9.585 MMCF/d (millions of cubic feet per day), down from 9.601 MMCF/d in the year-ago period.
Downstream: The segment recorded profits of $1.5 billion. The reported figure is $303 million higher than the July-September quarter of 2016. This improvement was backed by improved margins from refining activities. It is to be noted that Hurricane Harvey failed to mar refining business results despite affecting the company's Baytown refinery — the second largest in the United States.
ExxonMobil's refinery throughput averaged 4.3 million barrels per day (MMB/D), marginally down from the year-earlier level.
Chemical: This unit contributed $1.1 billion. The reported figure decreased by $79 million from the year-earlier quarter, thanks to lower margins.
Financials
During the quarter under review, ExxonMobil generated cash flow of $8.4 billion from operations and asset sales. The energy giant returned $3.3 billion to shareholders through dividends. Capital and exploration spending increased 43% year over year to almost $6 billion.
Q3 Price Performance
During third-quarter 2017, ExxonMobil gained 1.6% as compared with the industry's 9.6% rally.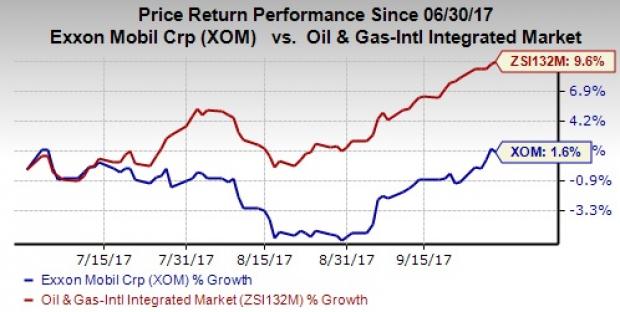 Key Development
On Oct 25, ExxonMobil announced the receipt of approval from the Neuquén provincial government to proceed with the plan of exploring shale gas in the Los Toldos I South block for a span of 35 years.
Zacks Rank & Other Key Picks
ExxonMobil currently has a Zacks Rank #2 (Buy). Other top-ranked players in the energy sector are Par Pacific Holdings Inc. PARR, Northern Oil and Gas, Inc. NOG and Canadian Natural Resources Limited CNQ. All the stocks sport a Zacks Rank #1 (Strong Buy). You can see the complete list of today's Zacks #1 Rank stocks here.
Headquartered in Houston, TX, Par Pacific managed to beat the Zacks Consensus Estimate in three of the last four quarters, the average earnings surprise being 195.26%.
Based in Minnetonka, MN, Northern Oil and Gas is an upstream energy player. The company's 2017 revenues are estimated to grow 44.1%.
Canadian Natural, headquartered in Calgary, Canada, is primarily an upstream energy firm. The firm will likely witness year-over-year earnings growth of 234.8% in 2017.
Wall Street's Next Amazon
Zacks EVP Kevin Matras believes this familiar stock has only just begun its climb to become one of the greatest investments of all time. It's a once-in-a-generation opportunity to invest in pure genius.
Want the latest recommendations from Zacks Investment Research? Today, you can download 7 Best Stocks for the Next 30 Days.
Click to get this free report
Par Pacific Holdings, Inc. (PARR): Free Stock Analysis Report
Canadian Natural Resources Limited (CNQ): Free Stock Analysis Report
Exxon Mobil Corporation (XOM): Free Stock Analysis Report
Northern Oil and Gas, Inc. (NOG): Free Stock Analysis Report
To read this article on Zacks.com click here.
Zacks Investment Research