Pinnacle Foods Inc. PF posted mixed second-quarter 2017 results, wherein though the bottom line outpaced the Zacks Consensus Estimate, top line missed the same. Further, management reiterated full-year adjusted earnings guidance at the low end of its previously stated range.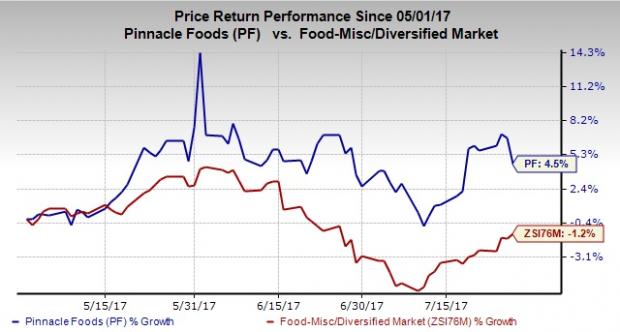 The company's shares have declined nearly 2.1% yesterday, probably as investors were disappointed with the top line miss and the bleak earnings view. However, we note that the stock has rallied 4.5% in the last three months against the industry's decline of 1.2%. Nonetheless, the industry is placed at top 47% of the Zacks Classified industries (120 out of 256).

Q2 Highlights

Adjusted earnings of 53 cents per share rose 26.2% from the year-ago period, and also surpassed the Zacks Consensus Estimate of 52 cents by 1.9%. This was in line with the company's robust earnings trend in recent quarters. Notably, the company has a track record of either meeting or beating earnings estimates, much similar to Colgate-Palmolive Company CL that has maintained this trend for over seven years now, barring one quarter of negative earnings surprise in Jun 2015.

Coming back to Pinnacle Foods, the company has delivered positive earnings surprise in eight of the last 14 quarters and posted in-line results in the remaining six.
Pinnacle Foods, Inc. Price, Consensus and EPS Surprise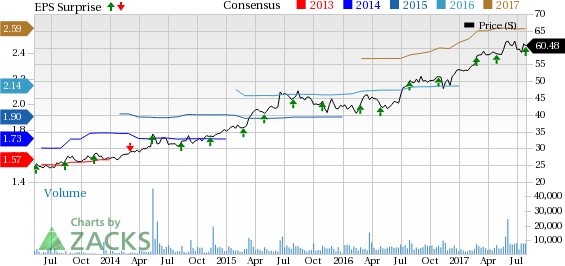 Pinnacle Foods, Inc. Price, Consensus and EPS Surprise | Pinnacle Foods, Inc. Quote
However, GAAP earnings for the quarter came in at 16 cents versus 39 cents in the prior-year period, significantly hurt by items affecting comparability.

Net sales fell 1.6% to $744.6 million in the second quarter and lagged the Zacks Consensus Estimate of 766 million by 2.8%. In fact, its top line has lagged the consensus mark in 10 of the last 14 quarters.

The decline is attributed to the 2.6% negative impact from the sale of its low-margin businesses comprising Aunt Jemima (AJ) retail and foodservice frozen breakfast products. In addition, the company's top line included a 0.9% impact from the closing of Boulder UK operations as well as SKU rationalization program initiated in the second half of 2016. However, these negatives were offset by robust underlying sales growth of 1.9%.

Adjusted gross profit decreased 6.8% to $203.8 million with the gross margin contraction of 150 basis points (bps) to 27.4%. This was attributable to adverse margin that was over 200 bps from the certain discrete items.

Adjusted earnings before interest and taxes (EBIT) slipped 0.5% to $114.2 million in the quarter.

Segment Details

Frozen: Segment sales rose 2.5% to $295.9 million in the quarter on the back of higher volume/mix of 9.2%, partially offset by reduced net price realization of 2.4% and currency headwinds of 0.3%.

However, adjusted EBIT for the segment dropped 14.4% to $38.1 million as unfavorable impact from discrete items was higher than increased productivity as well as positive timing of marketing spending.

Grocery: Segment sales fell 1.8% to $276.1 million due to the unfavorable net price realization of 2.1%, somewhat compensated with favorable volume/mix of 0.3%.

Adjusted EBIT for the segment grew 15% to $61.9 million backed by productivity savings, synergies from the Boulder Brands acquisition as well as favorable impact from items affecting comparability. These items were offset by input cost inflation.

Boulder: Pinnacle Foods completed the acquisition of Boulder Brands on Jan 15, 2016. Consequently, it became a wholly-owned subsidiary of the company.

In second-quarter 2017, Boulder segment contributed $94.7 million to net sales, which is in line with the prior-year period. This represents higher volume/mix of 4.9%, along with favorable net price realization of 2.8%, which were mitigated by the winding down of the Boulder UK operations and SKU rationalization program.

Adjusted EBIT for the Boulder Brands segment totaled $15.8 million, up 30.3% from the prior-year quarter.

Specialty Foods: Segment sales declined 15.1% to $78 million due to reduced volume/mix of 6.8% and 8.9% decrease from the AJ exit, partly favorable net price realization of 0.6%. Meanwhile, the private label business continued to be under pressure in the quarter as was anticipated by the company, due to lower sales of USDA stew as well as the exit of the gardein private label business. Also, the segment's adjusted EBIT plunged 39.5% to $4.4 million in the reported quarter.

Notably, this Zacks Rank #4 (Sell) company has been witnessing sluggish net sales for the Specialty segment for quite some time now. Due to a heightened competitive bidding environment for the already low-margin USDA stew business, the company continues to expect Specialty to remain challenged through 2017, reflecting lower sales of private label canned meat.

Other Financial Aspects

Pinnacle Foods ended the quarter with cash and cash equivalents of $130.9 million, long-term debt of $2,940.8 million, and total equity of $1,944.9 million.

In the quarter, the company generated cash flow from operations of $57 million and incurred capital expenditure of $20 million. Additionally, its total free cash flow for the quarter totaled $37 million.

2017 Guidance

Pinnacle Foods reaffirmed its adjusted earnings guidance in the band of $2.55–$2.60 per share for 2017 but expects the same to be at the lower end. This reflects a year-over-year increase of nearly 19%. The Zacks Consensus Estimate is pegged at $2.59 for the full year.

Net sales and adjusted earnings for 2017 are anticipated to gain roughly 1% and 3 cents, respectively, from the 53rd week. Further, this is likely to benefit the fourth quarter as well.

Moreover, the company continues to expect input cost inflation in the range of 2.5−3% for the year. Productivity is estimated to be at the top or marginally above its cost of products sold range of 3.5–4%. Notably, this does not include the synergies of not less than $15 million from Boulder Brands acquisition, which are likely to benefit the gross margin as well as SG&A overhead.

Additionally, capital expenditures for the full year are expected to be in the range of $115–$125 million.

Our Take

Overall, the company boasts of a strong brand portfolio and intends to continue investing in innovation products to further differentiate its brands in the marketplace. It has also been pursuing various acquisitions over the years to enhance its distribution network, customer base and long-term growth.

Moreover, Pinnacle Foods has an operational excellence program to generate annual productivity savings across the supply chain. In fact, these productivity savings, along with higher pricing have been mitigating the impact of input cost inflation to drive gross margins.
Stocks to Consider

Better-ranked stocks in the same industry include Nomad Foods Limited NOMD and Sysco Corporation SYY.

Nomad Foods has delivered positive earnings surprise of 3.9% in the last reported quarter and currently sports a Zacks Rank #1 (Strong Buy). You can see the complete list of today's Zacks #1 Rank stocks here.

Sysco carries a Zacks Rank #2 (Buy) and has a long-term earnings growth rate of 8.2%.

The Hottest Tech Mega-Trend of All

Last year, it generated $8 billion in global revenues. By 2020, it's predicted to blast through the roof to $47 billion. Famed investor Mark Cuban says it will produce "the world's first trillionaries," but that should still leave plenty of money for regular investors who make the right trades early. See Zacks' 3 Best Stocks to Play This Trend >>
Want the latest recommendations from Zacks Investment Research? Today, you can download 7 Best Stocks for the Next 30 Days.
Click to get this free report
Sysco Corporation (SYY): Free Stock Analysis Report
Pinnacle Foods, Inc. (PF): Free Stock Analysis Report
Colgate-Palmolive Company (CL): Free Stock Analysis Report
Nomad Foods Limited (NOMD): Free Stock Analysis Report
To read this article on Zacks.com click here.