Dear Janet Yellen, while we sympathize and realize you are still dazed from your marathon two-day FOMC session in which you must have been utterly exhausted to describe the chart below...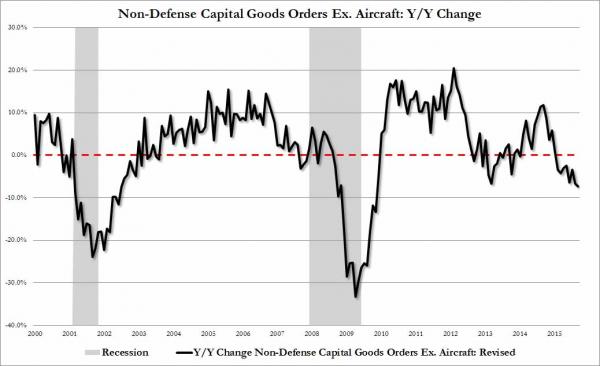 ... as "business fixed investment has been increasing at solid rates in recent months", we had one question.
Back on May 7, when responding to an audience question in Washington, you said that "equity-market valuations at this point generally are quite high... there are potential dangers there."
We only ask because on May 7 the S&P was at 2088... exactly where it is trading as of this writing. However, back then S&P500 sales were far higher as the collapse in commodity revenues had not been fully priced in.
And since in this day of double-seasonally adjusted non-GAAP "EPS", reported earnings are anythjing anything but, we decided to go with the one metric companies can't fabricated: sales.
Here is our question: on May 7, the Price-to-Sales ratio of the stock market was 1.8264x. As of this moment it is higher at 1.8408x.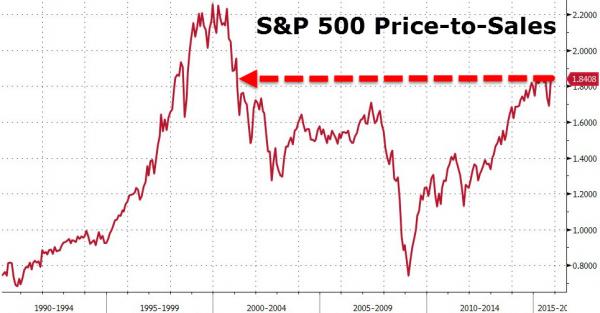 So, dear Janet, can you please confirm what the chart above shows, namely that "equity market valuations" are now even higher than when you said they were "generally quite high", and if so, should we still be buying stocks and why? And also, if stocks are bought and the market tumbles again, do you promise to make everyone's losses whole following valuation statements such as this one from Fed president John Williams: "FED'S WILLIAMS SAYS U.S. STOCKS AREN'T OVERVALUED"
Thank you.