Canadian Pacific is the smaller of the two Canadian railroads.
The company has turned around with its operating margin doubling in a matter of three years.
Dividend investors are rewarded with a lowly 0.75% and no growth, as the company has frozen dividends since 2012.
CP has started buying back its shares and intends to continue doing so.
Canadian Pacific Railway Ltd. (NYSE:CP) is the smaller of the two Canadian railroad companies operating approximately 13,700 miles of network, serving business centers from west coast to east coast Canada and the United States Northeast and Midwest regions. CP's peers include Union Pacific Corp. (NYSE:UNP), Canadian National Railway (NYSE:CNI), CSX Corp. (NYSE:CSX), Norfolk Southern (NYSE:NSC), and Kansas City Southern (NYSE:KSU).
CP operates in one of the widest moat industries - railroads. The company has a diversified traffic volume including intermodal, vehicle & automotive parts, chemicals & plastics, crude oil, forest products, metals, minerals, and consumer products.
Corporate Profile (from Yahoo Finance)
Canadian Pacific Railway Limited, through its subsidiaries, operates a transcontinental railway in Canada and the United States. The company provides logistics and supply chain expertise services. It transports bulk commodities, including grain, coal, fertilizers, and sulphur; and intermodal traffic comprising retail goods in overseas containers that can be transported by train, ship, and truck, as well as in domestic containers and trailers that can be moved by train and truck. The company also transports merchandise freight consisting of finished vehicles and automotive parts, chemicals and plastics, crude oil, and forest products, as well as metals, minerals, and consumer products. It provides rail and intermodal transportation services over a network of approximately 13,700 miles serving the business centers of Canada from Montreal, Quebec, to Vancouver, British Columbia, and the United States Northeast and Midwest regions. The company was founded in 1881 and is headquartered in Calgary, Canada.
The Railroad Industry
Railroads are the pulse of the economy. Whether transporting crude, lumber, merchandise, agricultural or industrial products, railroads are what keep the economy moving. While the transportation for entities such as coal (which used to be the largest users of railroad services a few years ago) has fallen due to the fall in crude prices and rise of green energy alternatives, the transportation need for crude saw significant rise in the recent past. However, the recent turn of events with falling energy prices has put a damper on crude transportation via railroads. The following charts from Association of American Railroads show the drop in traffic from the peak in Sept./Oct. 2014 for petroleum products coupled with the steady decline in coal transportation. It is interesting to note that coal traffic picked up quite a bit in August.
Since most of CP's operations are based in Canada, the Canadian traffic is shown here.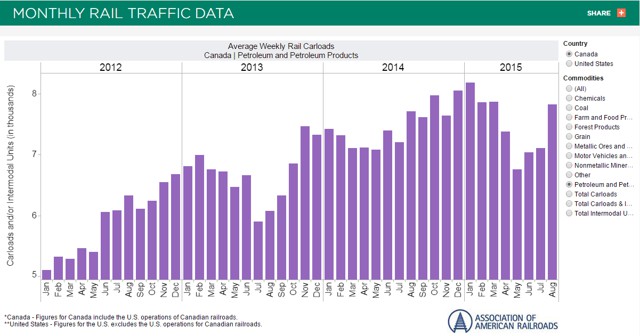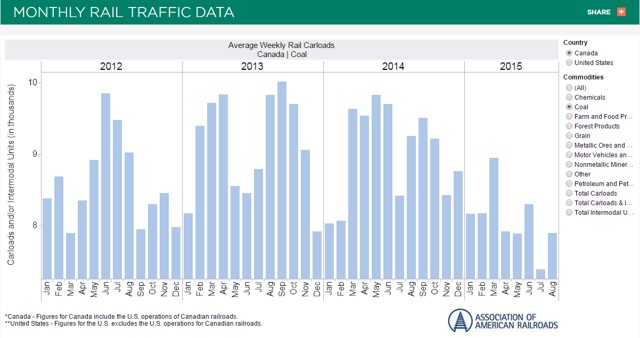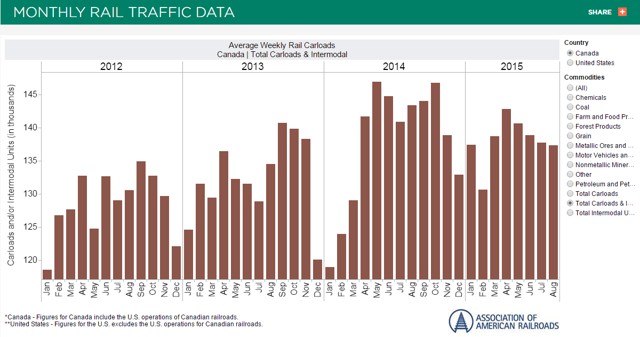 The following table compares the railroad industry to show where CP fits in compared to Union Pacific Corp., Canadian National, CSX Corp., Norfolk Southern, and Kansas City Southern.

(Source: Created by author. Data from Google Finance and FinViz)
I present a more detailed railroad sector overview in this post.
Canadian Pacific lagged its competitors over the years, especially its most direct competitor Canadian National Railway. The current CEO at CP - Hunter Harrison served as the CEO of its rival CN from 2003 to 2009 and went into retirement at the end of his tenure.
In 2011, Bill Ackman's hedge fund Pershing Square Capital Management acquired a 14% stake in CP and proceeded to require several changes in the management and governance of the company. The CP board resisted but eventually lost the proxy fight. Pershing managed to convince Hunter Harrison to come out of retirement and take over the helms as CEO and President starting June 2012. The non-competition clause from CN was apparently breached and CN launched a lawsuit against Harrison. Hunter Harrison is currently the CEO but is currently taking a leave of absence due to a serious illness.
Over the years, CP has done very well improving its operating margin from a lowly 19% at the end of 2011 to the current 38%, just behind the sector-leading CN's margin (at 39.6%). The share prices have also appreciated with CAGR of 62% (including dividends).
Pershing Square Capital still remains the top shareholder, currently at 8% of total outstanding shares.
Dividend Stock Analysis
Note: The numbers provided below are for the TSX-listed stock and are in Canadian Dollars, CAD$.
Financials
Expected: A growing revenue, earnings per share and free cash flow year over year looking at a 10-year trend. A manageable amount of debt that can be serviced without affecting future operations.

(Source: Created by author. Data from Morningstar)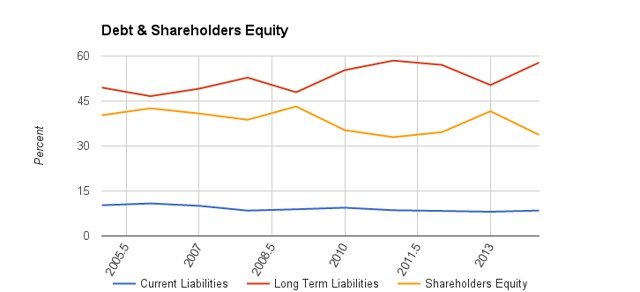 (Source: Created by author. Data from Morningstar)
Actual: The railroad business has been profitable over the past decade, and the financials show a nice steady rise in revenue year over year except for the stumble in 2009. The EPS and ROE have risen very quickly in the last couple of years, thanks to most efficient operations and margins. CP has a debt/equity of 1.28 and a current ratio of 0.90.
Dividends and Payout Ratios
Expected: A growing dividend outpacing inflation rates, with a dividend rate not too high (which might signal an upcoming cut). Low/Manageable payout ratio to indicate that the dividends can be raised comfortably in the future.

(Source: Created by author. Data from Morningstar)
Actual: CP currently yields 0.75%, a very low starting dividend yield. That would be fine if the dividend was growing at an aggressive pace over the years, but management has frozen dividends since 2012, and the company has lost its dividend growth streak. The company has a very manageable payout ratio of 15.1% - the lowest in the sector.
Outstanding Shares
Expected: Either constant or decreasing number of outstanding shares. An increase in share count might signal that the company is diluting its ownership and running into financial trouble.

(Source: Created by author. Data from Morningstar)
Actual: The number of shares rose over the years since 2008, but have started declining, thanks to new buyback programs since last year. CP announced a renewal of its buyback program in March 2015. The buyback program will cancel 6% (up to 9.14M) of outstanding shares. The company has indicated that it intends to tap into the debt market again to fund more buybacks.
Book Value and Book Value Growth
Expected: Growing book value per share.

(Source: Created by author. Data from Morningstar)
Actual: The book value saw a drop in 2010 and took a couple of years to stabilize, but has started rising considerably since 2012.
Operating Margins
Expected: A healthy operating margin of over 30%.
Actual: Operating margin for CP is the second best in class in the railroad industry right behind CN. The margins have improved considerably over the years going from one of the least efficient to most efficient. The company has an operating margin of 38.30%.
Valuation
To determine the valuation, I use the Graham Number, average price-to-earnings, average yield, average price-to-sales, and discounted cash flow. For details on the methodology, click here.
The Graham Number for CP with a book value per share of $32.55 and TTM EPS of $9.24 is $82.26. Based on the last closing price, the stock is currently 124% overvalued.
CP's 5-year average P/E is 29.10, and the 10-year average P/E is 20.89. Based on the analyst earnings estimate of $12.04, we get a fair value of $350.36 (based on 5-year average) and $251.52 (based on 10-year average).
CP's average yield over the past five years was 1.43% and past 10 years was 1.45%. Based on the current annual payout of $1.40, that gives us a fair value of $97.90 and $96.55 over the 5- and 10-year periods, respectively.
The average 5-year P/S is 3.68 and average 10-year P/S is 2.8. Revenue estimates for next year stand at $42.78 per share, giving a fair value of $157.43 and $119.79 based on 5- and 10-year averages, respectively.
The consensus from analysts is that earnings will rise at 16.19% per year over the next five years. If we take a more conservative number at 12% (considering all the headwinds facing the Canadian economy currently and the depressed commodity prices) and assume that CN is growing its earnings by 6% thereafter, running the three-stage DCF analysis with a 10% discount rate (expected rate of return), we get a fair price of $77.91.
The following charts from F.A.S.T. Graphs provide a perspective on the valuation of CP.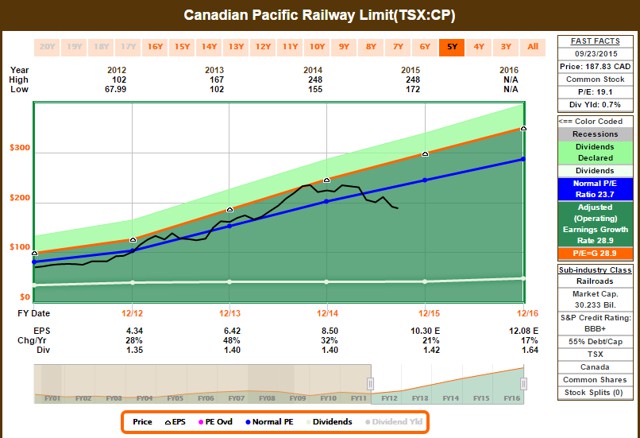 (Source: F.A.S.T. Graphs)
The chart above shows that CP is slightly undervalued. The Estimates section of F.A.S.T. Graphs predicts that at a P/E valuation of 17.3, the 1-year return would be 7.82%.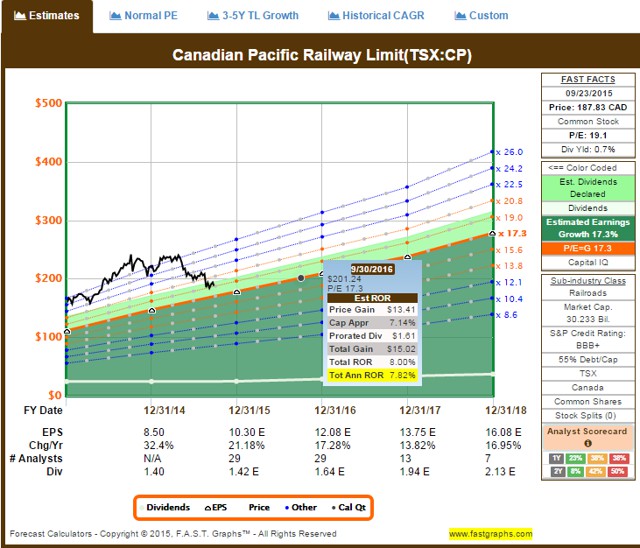 (Source: F.A.S.T. Graphs)
Conclusion
Railroads are the pulse of the economy, and CP operates an impressive 13,700 miles of rail network serving mostly Canada and some parts of the US. The company has come a long way and has turned to become one of the most efficient and profitable companies in the sector. In a matter of three years, the operating margins have doubled. However, dividend growth investors have found it disappointing as the company has not raised dividends since 2012. With a low starting yield of 0.75% and low payout ratio of 15%, there is plenty of room for those dividends to grow, but the company - thanks to its largest shareholder Pershing Square Capital has gone the route of share buybacks to return cash to shareholders. That trend is expected to continue as the company intends to raise more cash from the debt markets to issue further buybacks. If we give equal weight to all valuation metrics used above, we get a fair value of C$177.60.
Full Disclosure: Long CNI. My full list of holdings is available here.
More