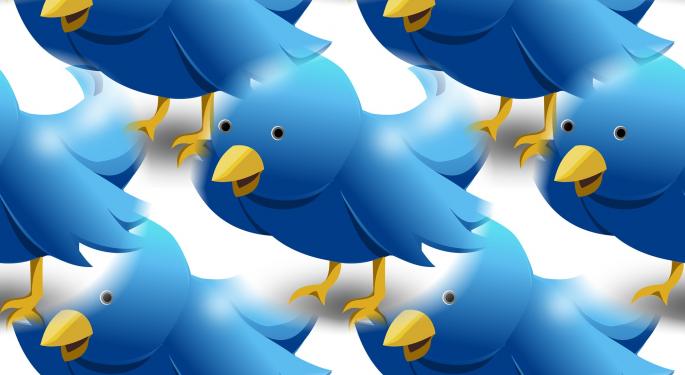 Ahead of Twitter Inc TWTR 0.08%'s second-quarter results due on Tuesday, July 26, MKM Partners said it would be on the sidelines, despite the story becoming more interesting. The firm prefers to see proof of success and buy the stock at higher levels rather than go by the premise that recent content partnership and product enhancement will be the remedy.
The firm's Internet: Applications and Media analyst Rob Sanderson is of the view that the success of Twitter is a binary outcome. The analyst highlighted the power of an interest graph for marketers and live events.
MKM Partners expects "in line or better" quarterly results relative to lowered guidance. Despite poor user growth and engagement, the firm noted that that expectations are not very aggressive. According to the firm, the several product enhancements and content partnerships announced by the firm this quarter are unlikely to impact second-quarter results.
User Experience Improvement: Is It Enough?
It was also noted most of these are for existing users and not meant for retaining new users. That said, Sanderson expressed doubts if user experience improvement is sufficient to retain audience. Agencies and channels seem to suggest that Twitter as an ad platform has not exactly clicked. However, with the Republican party's presidential candidate Donald Trump widely using the platform, MKM Partners view the elections as an engagement driver.
The firm also feels the Olympics will be a driver for engagement and monetization. The firm estimates $50 million in ad sales coming from the NFL deal. It is surmised that the company spent $10 million for these streaming rights. The company recently announced content partnership with the NBA. Accordingly, the firm believes Twitter stock depends on success with live streaming partnership.
The firm also noted that the 312 million monthly active user forecast is up just 2 million sequentially, translating to 2.6 percent year-over-year growth. MKM Partners also underlined Twitter's growth trailing other social networks like Facebook Inc FB 0.22%, Instagram, Snapchat and others.
MKM Partners maintains its Neutral rating on the stock and has a $14 price target.
At time of writing, shortly before Friday's close, Twitter was down 0.35 percent at $18.33.
Did you like this article? Could it have been improved? Please email feedback@benzinga.com with the story link to let us know!
© 2016 Benzinga.com. Benzinga does not provide investment advice. All rights reserved.