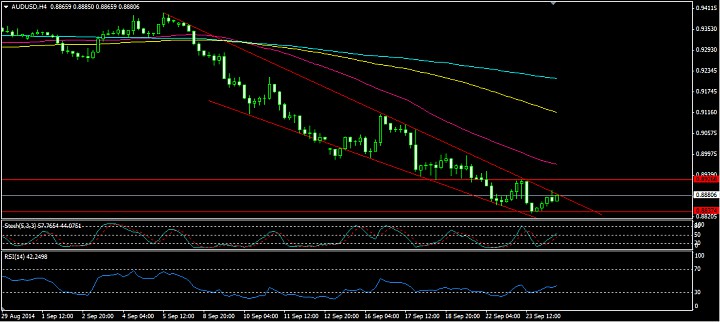 AUDUSD started gaining strength after finding support from .8837, however the gains still seems to be capped as it might find resistance from the falling resistance trend line of the wedge. A falling wedge pattern gives a bullish signal according to which the pair should break above the resistance trend line but there is again a resistance at .8926. The moving averages on the chart are also indicating a downtrend continuation as they all are heading downwards and moving apart.
The Australian dollar gained some strength after the release of CB leading Index which rose by .5% in July after a gain of .2% in June. Separately, RBA said that it is currently discussing some measures to strengthen the lending measures and balance the unbalanced housing and mortgage market.
On the weekly chart, the pair is testing the key support at .8837 and might decline below it approaching the next support level at .8670. Even if the pair try to rise the resistance trend line of the descending triangle will resist the pair in rising above it. Descending triangle gives a bearish signal according to which the pair should decline below the support at .8670.