The USD/JPY has been bearish entering the month of July but has been in consolidation since.
(click to enlarge)
Support around 100:
- As we can see in the daily chart, the decline accelerated at the end of June - after the Brexit vote.
- Since that dip after Brexit, price has found some support around 100, although price did stretch to 98.78 in June.
- This consolidation is essentially between the support just below 100 and resistance around 107.
- This week, price has coming down with pressure on the support around 100 again.

USD/JPy 4H Chart 8/18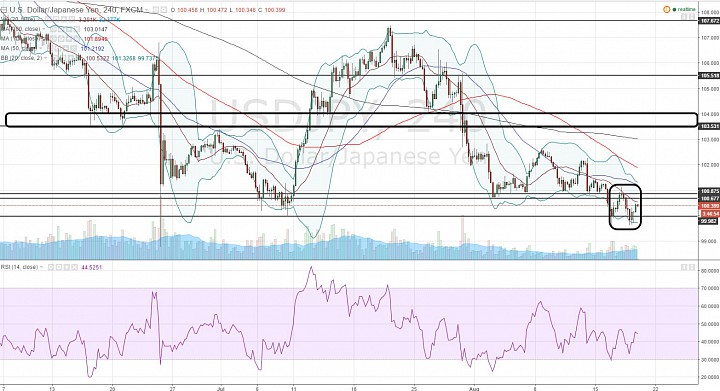 (click to enlarge)
Double bottom attempt and the bullish outlook:
- In the 4H chart we can see that the slide since mid-July has returned price to the lows in July.
- So far, we are seeing some support just below 100. 
- In fact, we could be seeing a double bottom attempt. 
- If price rises back above 101, we would have a completed double bottom, which opens up the prospect of a bullish market in the short-term.
- In a short-term bullish scenario that is within a medium-term consolidation scenario, we should anticipate upside towards the middle of the range, which would be around 103.50-104. 
- We want to be conservative also because the prevailing trend entering July was bearish. 
Let's see if price can indeed anchor up and complete a price bottom here around 100.