Everyone loves a good megadeal rumor, but it's time to move on from this one: Comcast Corp. and Verizon Communications Inc. probably aren't getting together.
An error has occurred
You have 1 free Businessweek article left.
Register for more.
Already a subscriber? Link your Bloomberg Terminal account or your Businessweek subscription account to access all articles.
It's the latest in a series of M&A ideas involving cable providers, wireless carriers and TV programmers -- all because AT&T Inc. struck a deal last year to buy Time Warner Inc.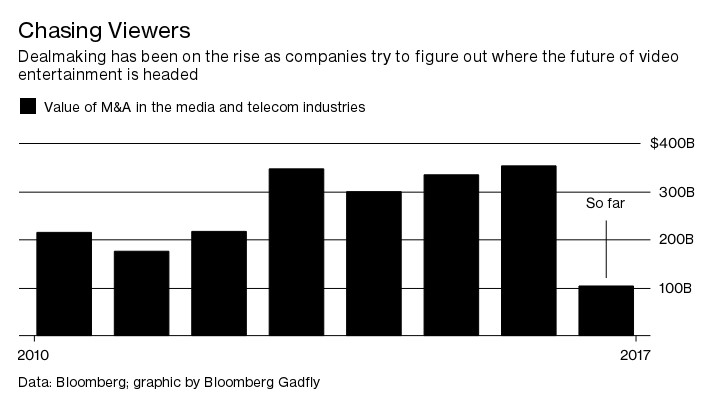 The chatter a few weeks ago was that Verizon will buy Walt Disney Co., a deal that would look similar to AT&T-Time Warner. The only problem, as I explained then, is that Verizon couldn't afford Disney even if it wanted. Then came the comical suggestion that the hot mess that is Sprint Corp. will get to link up with Warren Buffett. And so on.
A merger of Comcast and Verizon does have more strategic merit than those others. Citigroup Inc. analyst Jason Bazinet feels so strongly about it that he even downgraded Dish Network Corp. to a sell this week on the premise that if Comcast takes his advice and buys Verizon, then Dish gets left out in the cold.
Comcast and Verizon would certainly love to become more powerful, not to mention diversified as retaining subscribers gets tougher for both of them. Combined they represent $380 billion of shareholder value and are each No. 1 in the U.S. in their respective...
More