Kimberly-Clark Corporation's KMB shares have been underperforming since past one year. In the said time frame the stock has fallen 6.7%, compared to the Zacks categorized Consumer Products–Staples industry's decline of 1.3%. Unfavorable pricing, dismal organic sales and weakness in the diaper segment have posed concerns for the company of late.
Kimberly-Clark has been witnessing slower organic sales growth, especially in the developing and emerging markets in past few quarters. Though the company has strong long-term growth prospects in developing and emerging markets, the current promotional environment is weakening the current market dynamics. Further, the company's diaper segment is observing lower market share and increased pressure due to higher competitive promotional activity. It has been noted that shoppers are shifting to either less expensive or premium diaper offerings. This is hurting the company's diaper market share, especially of Huggies.
Despite such headwinds, it is commendable that Kimberly-Clark remains focused on improving its performance through a number of growth initiatives. Let's now delve into the strategic initiatives that have been put in place by the company to regain its lost market share.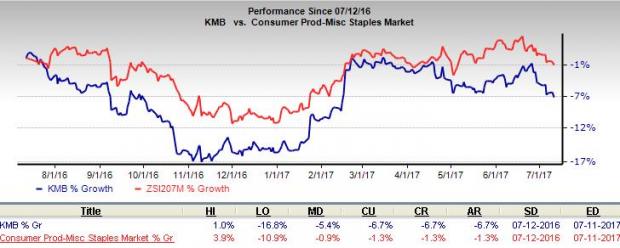 Cost Reduction and Restructuring Measures
Through the FORCE (Focus on Reducing Costs Everywhere) program, Kimberly-Clark has been aggressively cutting costs. The program has generated higher cost savings each year. For 2017, the company expects cost savings of at least $400 million. Evidently, it has already achieved cost savings worth $110 million in the first quarter.
Kimberly-Clark's restructuring initiatives have also yielded positive results. Restructuring initiatives mainly involves divestiture from lower-margin businesses and streamlining of manufacturing activities. This resulted in $70 million of savings in 2016. The cumulative benefit amounted $140 million annually, compared with the original estimate for savings of $120 million–$140 million by the end of 2017.
Innovation to Strengthen Brand Position
Kimberly-Clark's regular innovation helps in improving brand position and market share in the consumer categories. In the near term, the company has a number of innovations lined up for launch in North America. The launches include upgrades on Huggies Snug and Dry diapers, Good Nights youth pants and Depend underwear. Further, the company has various innovations lined up for Huggies in the second quarter.
Seizing Opportunities through Expansion
Kimberly-Clark is well positioned overseas and has been regularly expanding in developing, emerging and developed markets. The company is performing well in Eastern Europe and China due to strong volume growth and innovation. In China, volume growth is expected to remain healthy along with improvement in pricing in 2017.
Industry Performance

Bottom-Line
We expect these initiatives to boost the company's second-quarter 2017 results, which is scheduled to report on Jul 25. However, for the time being, investors need to wait and see if Kimberly-Clark's growth initiatives can help overcome the existing challenges. Given the pros and cons, Kimberly-Clark currently carries a Zack Rank #3 (Hold). Also, estimates of the company have remained stable at $1.51 and $6.29 for the second quarter and for the fiscal year 2017, in the last 30 days.
Still Interested in Consumer Staples Stocks? Check these
Some better-ranked stocks in the same sector include Constellation Brands, Inc. STZ and Newell Brands Inc. NWL each carrying a Zacks Rank #2 (Buy) as well as Energizer Holdings, Inc. ENR sporting a Zacks Rank #1 (Strong Buy). You can see the complete list of today's Zacks #1 Rank stocks here.
Constellation Brands has an average positive earnings surprise of 11.7% for the past four quarters, with a long-term earnings growth rate of 18.2%.
Newell Brands generated an average positive earnings surprise of 7.7% over the trailing four quarters and has a long-term earnings growth rate of 12.1%.
Energizer Holdings as an average positive earnings surprise of 21.6% over the trailing four quarters and has a long-term earnings growth rate of 10%.
More Stock News: 8 Companies Verge on Apple-Like Run
Did you miss Apple's 9X stock explosion after they launched their iPhone in 2007? Now 2017 looks to be a pivotal year to get in on another emerging technology expected to rock the market. Demand could soar from almost nothing to $42 billion by 2025. Reports suggest it could save 10 million lives per decade which could in turn save $200 billion in U.S. healthcare costs.
A bonus Zacks Special Report names this breakthrough and the 8 best stocks to exploit it. Like Apple in 2007, these companies are already strong and coiling for potential mega-gains. Click to see them right now >>
Want the latest recommendations from Zacks Investment Research? Today, you can download 7 Best Stocks for the Next 30 Days.
Click to get this free report
Kimberly-Clark Corporation (KMB): Free Stock Analysis Report
Newell Brands Inc. (NWL): Free Stock Analysis Report
Energizer Holdings, Inc. (ENR): Get Free Report
Constellation Brands Inc (STZ): Free Stock Analysis Report
To read this article on Zacks.com click here.
Zacks Investment Research