T2108 Status: 70.7%
T2107 Status: 64.9%
VIX Status: 12.9
General (Short-term) Trading Call: cautiously bearish
Active T2108 periods: Day #218 over 20%, Day #38 over 30%, Day #37 over 40%, Day #35 over 50%, Day #29 over 60%, Day #1 over 70% (first overbought day ended 3 days under 70%)
Commentary
Last year ended on a cautionary note. This year, 2017, started with an attempt to resume the market's previous roar. The 5-minute chart below for the S&P 500 (SPY) shows a sharp sprint at the open, followed by an extended pullback, stabilization, and finally a strong close.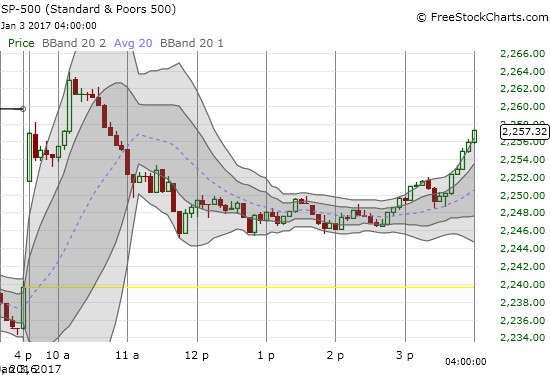 For a moment, the S&P 500 looked like it would print a bearish reversal after the strong open.
On the daily chart, note that the 0.9% gain closed the index above its intraday high that ended 2016. This close was enough to preserve the overbought reading that started the day. Overall this move represents a tentative return to overbought trading conditions given buyers had to rescue the S&P 500 from intraday lows. The NASDAQ (QQQ) also gapped up at the open, but its close was not quite as favorable as the S&P 500's even with the same 0.9% gain.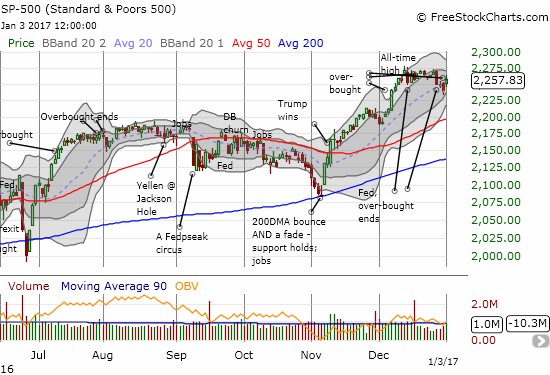 The S&P 500 (SPY) closed the first trading day of the year...
More