Trade with confidence. Are you a professional trader? Be the first to get the alert with Benzinga Pro's real-time newsfeed and audio squawk and never miss an opportunity again.
Don't miss the chance to try it FREE today.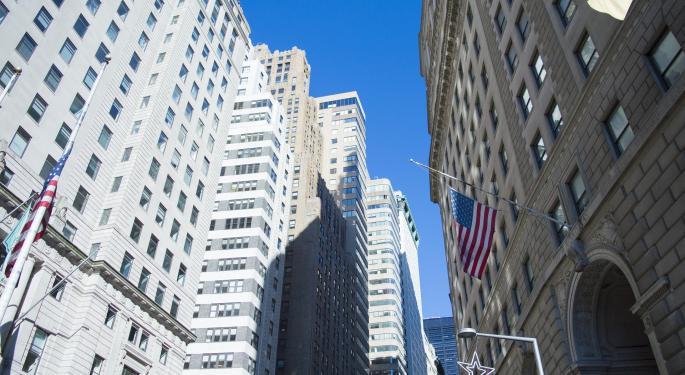 Below is a tool used by the Benzinga News Desk each trading day -- it's a look at everything happening in the market, in five minutes. Apply for daily AM access by clicking here or email minutes@benzinga.com.
Macro Focus
Asian stocks were mostly lower due to a strengthening of the U.S. dollar and declining oil prices. A stronger U.S. dollar adds pressure to commodity prices, which in turn led to a strong selloff in the commodity heavy Australian market.
"Global pesticides, seeds and fertilizer companies may be forced to re-engineer their business models as farmers adopt specialist technology that helps maximize harvests while reducing the use of crop chemicals," Reuters writes. "New businesses are springing up that promise to tell farmers how and when to till, sow, spray, fertilize or pick crops based on algorithms using data from their own fields."
Donald Trump vanquished Ted Cruz, trouncing the Texas senator in Indiana's primary and leaving Cruz to drop out, concluding that he had no path to the Republican nomination. Republican National Committee Chairman Reince Priebus declared Trump the "presumptive GOP nominee."
BZ News Desk
We will be on-hand at the 2016 Ira Sohn Conference. Click here for a full schedule and be sure to check www.pro.benzinga.com">Benzinga Pro for any market-moving commentary.
This morning's notable earnings:
Priceline PCLN 7.43% Reports Q1 Adj. EPS $10.54 vs $9.66 Est., Sales $2.15B vs $2.12B Est.
LendingTree TREE 3.75% Reports Q1 Adj. EPS $0.76 vs $0.67 Est., Sales $94.7M vs $85.6M Est.; Raises FY16 Sales Outlook
Time Warner TWX 2.89% Reports Q1 Adj. EPS $1.49 vs $1.30 Est., Sales $7.3B vs $7.3B Est.
Find out what's going on in today's market and bring any questions you have to Benzinga's PreMarket Prep.
Sell-Side Themes
Iberia and JPMorgan both came out with positive commentary on Halliburton HAL 0.22%, following an end to its failed merger attempt with Baker Hughes BHI 0.92%.
Sell-Side's Most Noteworthy Calls
Deal Talk
The FCC has approved European telecoms group Altice's acquisition of U.S. cable company Cablevision Systems CVC 1.57% in a $17.7 billion deal that includes assumption of debt.
Intercontinental Exchange ICE 8.27% revealed it doesn't have any plan to make an offer for London Stock Exchange Group. The decision was taken following due diligence on the information made available and it found that there was insufficient engagement to confirm the potential market and shareholder gains of a tactical combination.
Alphabet's GOOGL 0.2% Google will collaborate with Fiat Chrysler FCAU 0.75% to put its self-driving car technology into 100 Pacifica minivans, the CEOs of both companies told USA TODAY. The vehicles will be used to turbocharge Google's seven-year-old autonomous car program. For Fiat Chrysler, the agreement provides a technological crash course in what it takes to transform a standard vehicle into an autonomous one.
In The News
ISIS has the capability to stage a Paris-style attack in the U.S. using local cells to strike in multiple locations and inflict dozens of casualties, according to the Obama administration's top U.S. intelligence official. Director of National Intelligence James Clapper told CNN, "That's something we worry about a lot in the United States, that they could conjure up a raid like they did in Paris or Brussels."
After two days of a sickout that shut most of Detroit's public schools, the teachers union said it would urge members to go back to work Wednesday after the district's leader guaranteed they would be paid this summer. The interim president of the Detroit Federation of Teachers received a letter from Emergency Manager Steven Rhodes assuring that checks would not be stopped June 30 for most teachers, as previously warned, according to a union statement.
The new generation is changing beauty: "The latest results from Estée Lauder EL 1.38% and Coty COTY 1.48% exposed a shift in the beauty business: Millennials aren't willing to invest in expensive skin creams that have been big profit drivers. Instead, younger consumers want products that provide more immediate results."
Blogosphere
What's you best finance moment? Could be an on-point valuation. Could be catching a fundamental error in some financial statements. Could be your best investment or trade idea, and how it panned out. Or could just be funny work stories. Check out the thread.
Trending
PCLN Z ETSY TREE XIV OCLR UUP CBS UVXY BUD ZG MTCH CRAY SHOP TWX HAIN [StockTwits]
#MayThe4thBeWithYou According to Starwars.com, the unofficial holiday was first marked in 1979 after Margaret Thatcher won the election to become Britain's first female prime minister.
"To celebrate their victory her party took a half page of advertising space in the London Evening News. This message, referring to the day of victory, was 'May the Fourth Be With You, Maggie. Congratulations,' further proof of the extent to which 'Star Wars' has influenced us all," wrote author Alan Arnold, according to the website.
Latest Ratings for BAX
Date
Firm
Action
From
To
May 2016
Evercore ISI Group
Initiates Coverage on
Buy
Apr 2016
Credit Suisse
Maintains
Neutral
Apr 2016
Piper Jaffray
Upgrades
Neutral
Overweight
© 2016 Benzinga.com. Benzinga does not provide investment advice. All rights reserved.