The U.S. and its regional allies have become increasingly concerned by Chinese land reclamation programs in the disputed ocean.
As China becomes increasingly assertive, challenging U.S. hegemony in the region, one area of particular concern is a series of new artificial islands that Beijing has built in the South China Sea. Now the Philippines Supreme Court Senior Associate Justice Antonio Carpio has drawn attention to the matter, according to Inquirer.net.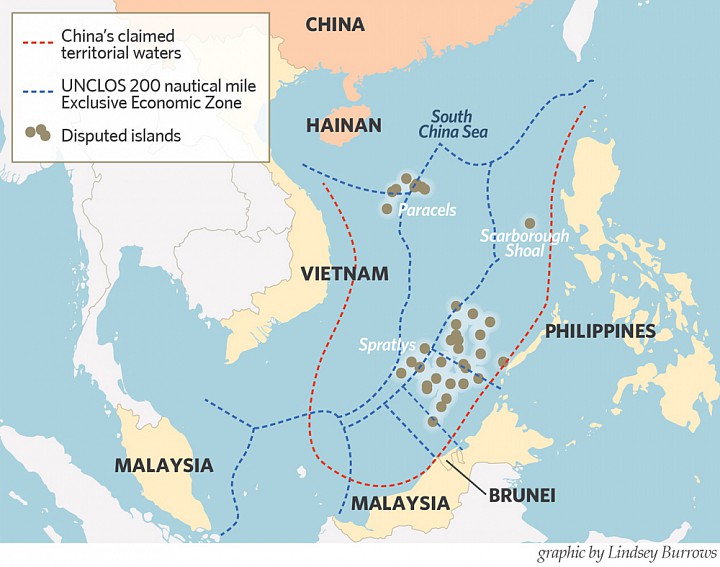 Territorial disputes in the South China Sea rumble on
There are a number of rival claimants to parts of the South China Sea, including Malaysia, Brunei, Taiwan, Vietnam and the Philippines. Carpio believes that the Philippines' territorial dispute with China should become an issue in the 2016 national elections because Beijing is working on "a triangle of military bases" in the area.
Carpio is referring to a new base at Panatag Shoal (Scarborough Shoal) in waters off Zambales province, which he said was to be used to protect the Bashi Channel. China wants to maintain access to the channel, through which it sends naval operations between Hainan and Taiwan.
During his speech at the Rotary Club of Manila in Makati City, Carpio told attendees of his belief that China has a "long-term grand design" to reinforce its territorial claims in the region. "They have their nuclear submarines stationed on the island (Hainan)," he said, emphasizing how the base would be used to protect the Bashi...
More