Hours after news broke that Lockheed senior executive Robart Harward had rejected Trump's offer to become the next National Security Advisor as he was Harward is "conflicted between the call of duty and the obvious dysfunctionality", moments ago Trump tweeted that General Keith Kellogg - the acting national security advisor -  "who I have known for a long time, is very much in play for NSA - as are three others."
General Keith Kellogg, who I have known for a long time, is very much in play for NSA - as are three others.

— Donald J. Trump (@realDonaldTrump)

https://twitter.com/realDonaldTrump/status/832579442790772736
So as attention refocuses on Kellogg, here is a brief profile of the retired general, courtesy of the Guardian: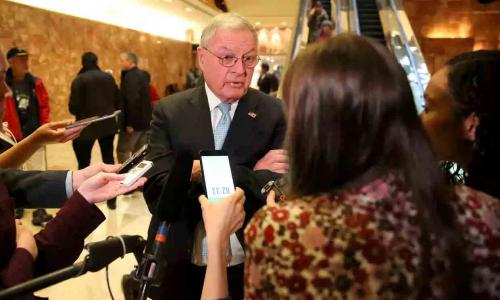 Retired General Keith Kellogg in the lobby of Trump Tower
Kellogg, 72, was born in Ohio and served 36 years in the military: in the army in Vietnam, as a special forces officer in Cambodia, and during the first Iraq war as chief of staff for the 82nd Airborne Division. Kellogg rose to command the airborne division from 1997 to 1998 and later came to national prominence when he served as chief operating officer for Baghdad's provisional government through 2004 – a year of mistakes by the transitional administration that haunted Iraq through the next decade of war.
After his retirement, Kellogg joined a series of contracting firms including tech giant Oracle – the company gave him a leave of absence to help the Bush administration in Iraq. "I was given the opportunity to establish a homeland security business unit at Oracle," he told the Washington Post in 2005, "based on the skills I developed in the military and on the value that information technology can bring to homeland security."
Kellogg later joined another tech contractor, CACI, in 2005, and then left for a defense contractor, Cubic Defense, in 2009, where he was responsible for the firm's "ground combat training business". In March, after Kellogg joined Trump's campaign as an adviser, the New York Times reported that the last defense contractor to employ the retired general "had no information on his whereabouts".
The retired general has kept a low profile in the White House compared with his predecessor. He was granted a formal role in Trump's transition team and later named chief of staff and executive secretary of the National Security Council, making him one military counterweight to an unusually prominent civilian on the council, Trump's chief strategist, Steve Bannon.
Although Trump may yet formalize Kellogg as his permanent adviser, rumors quickly began to spread on Monday night that another candidate was en route to the White House: retired general David Petraeus, the former CIA director who resigned in disgrace having admitted to giving classified information to his lover.