Remember when the commodity and gas plunge was supposed to be an "unambiguously good" tailwind for discretionary US spending, something which we warned over and over would never happen as the Obamacare "mandatory tax" surge pricing for healthcare insurance more than offset and discretionary savings?
Moments ago another 825 or so soon to be formerly paid workers just found out the hard way just how clueless the vast majority of the punditry was when Chesapeake energy just announced it would terminate 15% of its workforce, or about 825 of its 5,500 most recent employees, as a result of the "current oil and natural gas prices."
A longer-term chart of what unambiguously good looks like for US employees: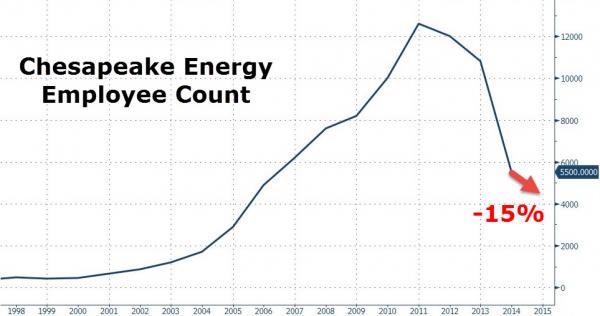 From the press release:
On September 29, 2015, Chesapeake Energy Corporation (the "Company") implemented a workforce reduction initiative as part of an overall plan to reduce costs and better align its workforce with the needs of the business and current oil and natural gas commodity prices. The plan resulted in a reduction of approximately 15 percent of its workforce. In connection with the reduction, the Company estimates it will incur an aggregate of approximately $55.5 million of one-time charges in the 2015 third quarter, including related employer payroll taxes, all of which will be paid in cash during 2015.
Surely the terminations will free up even more funds for such more important "use of proceeds" as stock buybacks and dividends, and make CHK's top shareholder, Carl Icahn, even happier.