The Goldman Sachs Group Inc. GS is planning to sell part of Simon — its online platform for retail bond investors. The app was introduced two years back and is currently valued at $75 million, per The Wall Street Journal.
The platform has greatly helped the retail brokers who invest on behalf of their clients. It helps them know about the structured investments online, saving time that would otherwise been wasted by discussing about the products over telephone.
However, Simon has not been in demand by the rivals of Goldman. JPMorgan Chase & Co. JPM has partnered with International Business Machines Corp. IBM to bring forth another platform similar to Simon. Further, Barclays PLC BCS and Credit Suisse Group AG CS use their own brokerage houses to sell structured notes.
Per the report, some of the rivals refrain from paying fees to Goldman while others feel the need of a neutral platform which is not being headed by a single bank.
Thus, the company has set out not only to find investors but also to provide brokers with more options to choose from. However, there is no surety to whether a deal would be made.
Lately, the company's has been undertaking several initiatives to become technically advanced. These include its online personal loan providing platform Marcus, secure messaging service across the Wall Street through Symphony and the upcoming robo-advising service. Such strategic moves are likely to bolster Goldman's performance.
Shares of Goldman have gained 55.1% over the last one year, marginally underperforming the Zacks categorized Financial - Investment Bank industry's rally of 56.5%.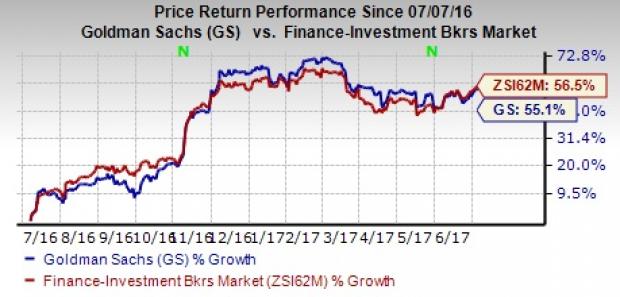 Currently, the bank carries a Zacks Rank #4 (Sell).
You can see the complete list of today's Zacks #1 Rank (Strong Buy) stocks here.
Today's Stocks from Zacks' Hottest Strategies
It's hard to believe, even for us at Zacks. But while the market gained +18.8% from 2016 - Q1 2017, our top stock-picking screens have returned +157.0%, +128.0%, +97.8%, +94.7%, and +90.2% respectively.
And this outperformance has not just been a recent phenomenon. Over the years it has been remarkably consistent. From 2000 - Q1 2017, the composite yearly average gain for these strategies has beaten the market more than 11X over. Maybe even more remarkable is the fact that we're willing to share their latest stocks with you without cost or obligation. See Them Free>>
Want the latest recommendations from Zacks Investment Research? Today, you can download 7 Best Stocks for the Next 30 Days.
Click to get this free report
International Business Machines Corporation (IBM): Free Stock Analysis Report
J P Morgan Chase & Co (JPM): Free Stock Analysis Report
Credit Suisse Group (CS): Free Stock Analysis Report
Barclays PLC (BCS): Free Stock Analysis Report
Goldman Sachs Group, Inc. (The) (GS): Free Stock Analysis Report
To read this article on Zacks.com click here.
Zacks Investment Research