How Have Apple's Semiconductor Suppliers Been Faring?
GreenPeak to contribute to Qorvo's earnings from fiscal 2Q17
In the previous part of this series, we saw that Qorvo (QRVO) acquired GreenPeak Technologies to expand in the IoT (Internet of Things) space. GreenPeak will become a part of the IDP (Industrial and Defense Products) segment and will contribute to Qorvo's earnings in fiscal 2Q17. Qorvo will continue to report fiscal 1Q17 earnings from its current business.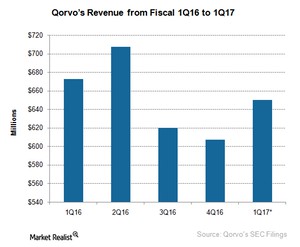 Fiscal 1Q17 guidance
For fiscal 1Q17, Qorvo expects to post revenue of $650 million, beating the analysts' estimate of ~$625.8 million. The revenue guidance indicates a 7% growth from the fiscal 4Q16 revenue of $607.1 million. The company expects to see increasing demand for its premium filters from the Chinese (FXI) handset makers, which are...
More