Computer accessory company, Logitech International S.A. LOGI completed the $85-million acquisition of Astro Gaming – a popular console gaming headset maker – in a step that will help it carve a deeper niche in the gaming peripheral market.
Logitech is an established player in the mice, keyboards, headsets, and other peripherals space, while Astro Gaming caters to enthusiast and professional console gamers. This acquisition is a strategic move on Logitech's part to get a jumpstart on the console market, as it has historically targeted PCs, tablets and phones.
Astro Gaming, famed for its expensive, high-quality Astro A40 and A50 headsets, will enable Logitech to explore the console gaming market and thus help accelerate the long-term growth of its gaming business. Logitech expects the acquisition to be slightly dilutive to the bottom line in the first year, due to integration expenses and investments. In fiscal 2018, Astro Gaming is anticipated to add approximately two points of growth to the top line.
Logitech entered fiscal 2018 on a robust note, with both healthy top- and bottom-line beats. The company beat earnings for the seventh consecutive quarter, as its first-quarter fiscal 2018 adjusted earnings (including stock-based compensation expense adjustments) trumped the Zacks Consensus Estimate by 29.1%. Also, its top line came in better than expected, driven by double-digit rise in sales across most of the product lines in all the three geographies, namely the Americas, EMEA, and Asia.
Buoyed by the impressive results and incorporating the accretive impact of the Astro Gaming buyout, Logitech raised its full-year 2018 guidance. It now expects non-GAAP operating income in the range of $260–$270 million (earlier guided range: $250–$260 million). Also, it projects constant currency fiscal 2018 sales growth in the range of 10–12% compared with the earlier estimate of high single-digit growth.
Backed by its impressive growth drivers, the company's stock has had an impressive run on the bourse over the past one year, having appreciated 59.3% — miles ahead of the industry's average gain of 8.6%.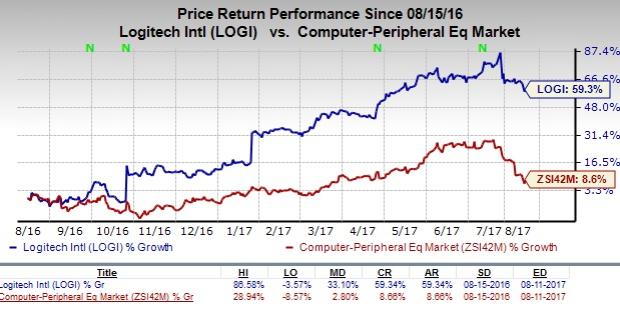 The raised guidance is likely to go down well with investors. Logitech remains optimistic that the steady traction of its product lines, as well as positive industry trends will continue to fuel growth. The broad-based growth in its retail business is a major positive and is likely to continue, moving ahead. Also, the company's diligent cost-cutting efforts add to its strength.
In order to further boost growth, the company is pursuing innovation and expanding its product lines to tap the high potential market for accessories. In recent times, Logitech launched innovative offerings like the fastest performing mouse and keyboard switches, and a wireless mouse with the long-lasting battery, among others.
The products most recently introduced include Logitech G903 and Logitech G703 mice, Logitech G433 and G233 Gaming Headsets, Second Street Collection Bluetooth speakers, conference-cam offering Logitech MeetUp, a protective cover for Apple Inc.'s AAPL new iPad Pro – Logitech Slim Combo, and the software – Logitech Flow – to control multiple computers with a single mouse.
Logitech International S.A. Price and Consensus
Logitech remains optimistic that the steady traction of its product lines, as well as positive industry trends will continue to fuel growth. We believe that the thriving cloud-based video-conferencing services, strategic product launches and restructuring actions will continue to stoke this Zacks Rank #3 (Hold) company's growth.
Key Picks
A few better-ranked stocks in the broader sector include Xplore Technologies Corp XPLR and Red Hat, Inc. RHT, both sporting a Zacks Rank #1 (Strong Buy). You can see the complete list of today's Zacks #1 Rank stocks here.
Xplore Technologies has a remarkable average positive earnings surprise of 102.5% for the trailing four quarters, having beaten estimates strongly all through.
Red Hat, Inc. has a robust earnings surprise history, with an average positive surprise of 11.1%, driven by consecutive earnings beats over the trailing four quarters.
5 Trades Could Profit "Big-League" from Trump Policies
If the stocks above spark your interest, wait until you look into companies primed to make substantial gains from Washington's changing course.
Today Zacks reveals 5 tickers that could benefit from new trends like streamlined drug approvals, tariffs, lower taxes, higher interest rates, and spending surges in defense and infrastructure. See these buy recommendations now >>
Want the latest recommendations from Zacks Investment Research? Today, you can download 7 Best Stocks for the Next 30 Days.
Click to get this free report
Apple Inc. (AAPL): Free Stock Analysis Report
Logitech International S.A. (LOGI): Free Stock Analysis Report
Red Hat, Inc. (RHT): Free Stock Analysis Report
Xplore Technologies Corp (XPLR): Free Stock Analysis Report
To read this article on Zacks.com click here.
Zacks Investment Research