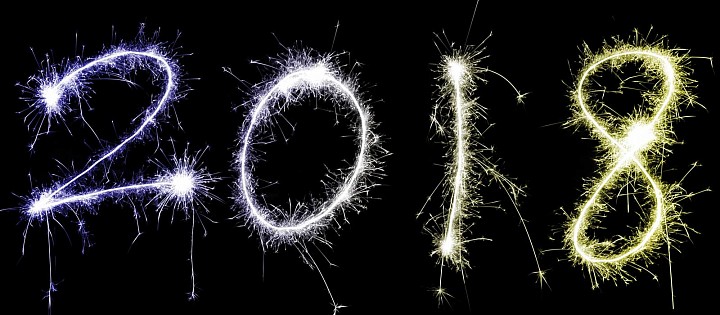 ---
Experts and amateurs alike have been busy prognosticating as the new year unfolds. As a result, all, some or none of the items on this informal "watchlist" could come to pass. Don't bank or invest based on any of this but do keep abreast of the news and developments as they happen to make sure you are not the last to know when events erupt.
Related: PAST PERFORMANCE IS NO GUARANTEE OF ANYTHING
Wage Growth Versus Unemployment Rate
Unemployment sits at a surprisingly low 4.1%. At the same time average hourly earnings are up just 2.5% on the year. Investors are going to be watching wages closely to see if they finally get a boost and if so, how that will affect the bottom line. Also on the radar, the Federal Reserve and whether it continues to raise rates as unemployment drops further.
Tech And The Government
Most big tech firms got bigger in 2017. Will that carry over into 2018? The combined market value of Apple Inc. (NASDAQ:AAPLC), Alphabet Inc. (NASDAQ:GOOGC), Microsoft Corp. (NASDAQ:MSFTC), Amazon (NASDAQ:AMZNC) and Facebook (NASDAQ:FBC) rose to $3.3 trillion or 43% on the year. While that much growth is unlikely for 2018, what exactly is likely? Government regulators could play a key role, especially with social media like Facebook and Twitter who apparently played a role in Russian election meddling for 2016.
China's Housing Stock
The key to China's growth in 2017 was its housing market. Local governments bought up empty housing blocks and pushed inventories down to their lowest since 2013. If inventories rebound strongly in 2018, which some analysts consider likely, it may be time to consider selling mining and industrial stocks.
A Higher VIX
The CBOE Volatility Index, or VIX, had 22 of its lowest 25 readings ever in 2017. Volatility will return – the question is when. When it does, if investors are caught off guard, reaction could be uncertain or even confused. Volatility is something to watch closely in 2018.
More From The S&P 500
Pro-growth policies in Washington should continue to push the S&P 500 northward, some say by 9% or more in 2018. Absent a black swan event, many analysts expect the stock market in general to continue its upward trajectory well into if not for the whole of the new year. The obvious caveats are the same as always, major global conflict, recession or a crisis that "nobody saw coming."
Active Management Again
Active managers had a wonderful year in 2017. With major winners like Apple, Facebook and Amazon dominating, it won't be surprising if active managers continue to stockpile investments in these companies as they look for continued good returns in 2018.
Related: TOP TECH STORIES FOR 2017
Biotech Boom
Lessening of regulatory oversight, less scrutiny of acquisitions and relaxed drug pricing oversight could all prove to be a net positive for biotech companies. Two funds, SPDR S&P Biotech ETF (NYSEARCA: XBI) and iShares Nasdaq Biotechnology ETF (NASDAQ: IBB) have shown recent tremendous growth with a strong outlook for the new year.