When the broader market, as gauged by an index such as the S&P 500, is in an uptrend, it pays to actively strong stocks that are leading the market higher. Even if a trader knows this, it isn't always easy to keep buying stocks at higher and higher prices as they keep going up. The turnaround play is popular because it provides the satisfaction of potentially getting a "good deal," because a stock has been so beaten down. These four stocks have been beaten down, but over the last couple months are showing signs of life. The price breaks higher could indicate the downtrend is over and an uptrend is beginning.
ACADIA Pharmaceuticals Inc. (ACAD) lost more more than half its value when it plummeted from a high of $32 in February to a low of $15.64 in April. Since that low the price has stabilized above $20 and recently broke above triangle pattern. A trendline drawn between the $32 high and the July $24.72 high was broken on Aug. 14 when the price surged above it. This a very small breakout given the big moves this stock saw in April (and the price is still near the breakout point), yet the evidence is there for a buying opportunity. A stop loss can go below $20 with an initial target in the $29.50 area, which is just below price peaks in 2013 and 2014. There is room for more upside if the price breaks through the resistance area between $29.50 and $32.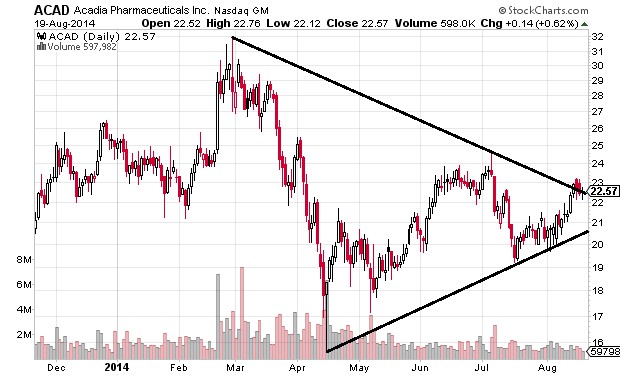 Since the start of 2013, American Eagle Outfitters Inc. (AEO) has lost more than half its value, dropping in a giant descending wedge pattern over the last year. In early August the wedge was broken by an upside breakout, following months of the price stabilizing above $10. Since the initial Aug. 6 breakout the price has pulled back but on Aug. 19 put in a new short-term high. While these small positives compared to the long-term downtrend, if this is the turn around the reward to risk is very favorable. A stop can be placed below $10.10, and with a wedge breakout of this size hold out for a target of at least $15, or potentially higher if the price is moving strongly.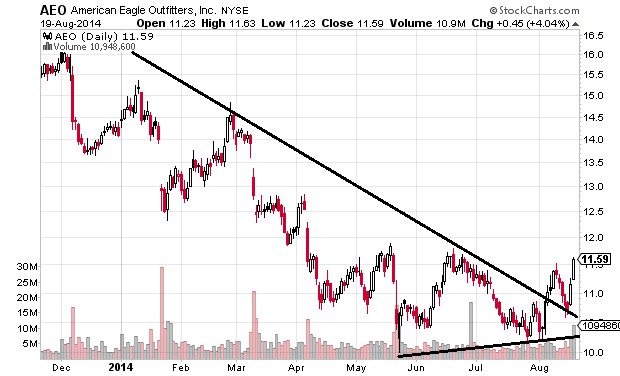 ARM Holdings plc (ARMH) is a choppy stock and has had some very big swings over the last year-and-a-half, hitting a low of $34.75 and a high of $55.26. That high occurred in late 2013, and since then the price has been making lower swing highs...until recently. A sharp rally in August has broken above a short-term descending trendline, indicating a further rise could be on the way. Over the last several months the price has also respected $41.89 as a floor, so stops can be placed below this. Target is in the $50 to $51 region, although there is longer-term upside potential if the price can rally through April resistance at $52.88. Waiting for a pullback to the breakout level near $45 to $44 (for entry) creates a better reward to risk profile on the trade.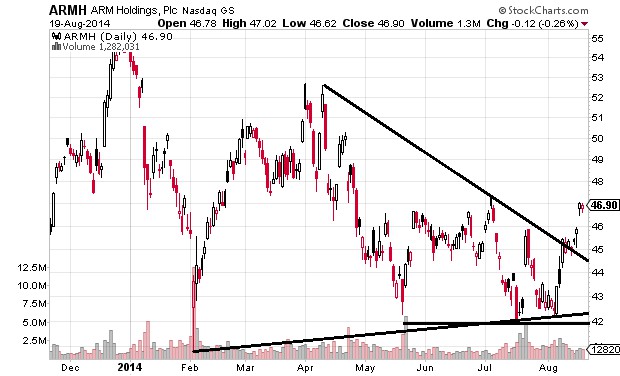 Ross Stores Inc. (ROST) was trending lower since November, but a strong 4.04% jump on Aug. 19 has pushed the price well above the descending trendline. The break is significant enough to warrant consideration that the price could climb back to the $73 region, or potentially higher. The long-term trend (weekly chart) for this stock up, so if that continues the price could make a new high above $82 (long-term). Whether that happens on this run higher, a future run higher, or at all, is yet to be seen. The weakening downtrend and strong recent move higher is positive though. If buying here ($69 area), stops can be placed below the old trendline, near $64.50. This isn't an ideal reward to risk unless expecting the long-term trend to continue. Short-term traders may want to wait for a pullback to the $66 region, if it occurs, with a stop about a dollar or two below a target between $71 and $73.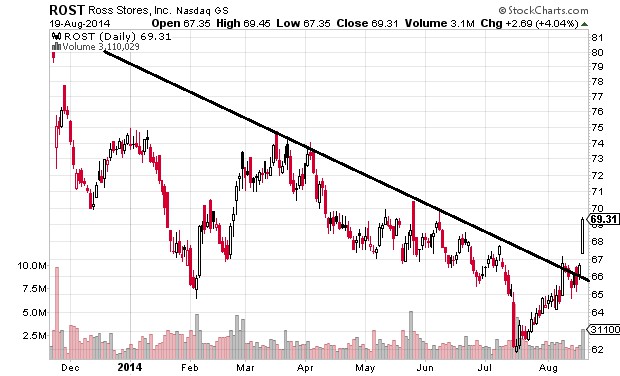 The Bottom Line
While buying strong stocks in a strong market is a common play, looking for turnaround stocks can provide excellent reward to risk trades. There are no guarantees these stocks will actually continue to trend higher, but there is evidence to suggest that it could happen and has already begun. Therefore, by waiting for a good entry, tucking a stop behind support and establishing a target that favorably compensates for the risk being taken, these turnarounds could be excellent trades. They likely won't all end up being winners though, which is why making more on the winners than is lost on the losers is so important.