Last week, EUR/USD fell below 1.35 briefly, but was bid back above this psychological level. This week started with a brief rally to 1.3550 before retreating. Now, we get into the 7/21 US session, price is in the middle of this new consolidation range between 1.3490 and 1.3550, trading around 1.3520.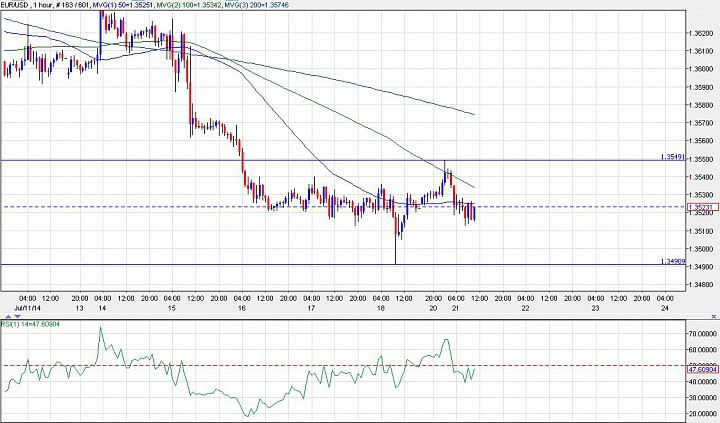 (eurusd 1h chart)
The moving averages are still in bearish alignment, although they seem to be converging, a reflection of the consolidation mode which started on 7/16. The RSI poked through 60 and killed the bearish momentum in the 1H chart, though it was not able to push above 70, so there is no bullish momentum. 
A break above 1.3550 can establish a short-term price bottom for a short-term bullish correction. In the bullish correction scenario, for the 1.3575-1.36 for resistance especially if the 1H RSI reading starts to show bearish divergence near 70. The 1.3575 level is where the 200-hour SMA resides at the moment, which can add to the resistance factors in this area.
Looking at the daily chart, we can see that the 3-day consolidation is just above the 2014-lows. There is a lot of pressure on these lows right now. Only a break above 1.3650 shelves the bearish outlook for me, and shifts to a neutral one, with the 1.37 high in sight.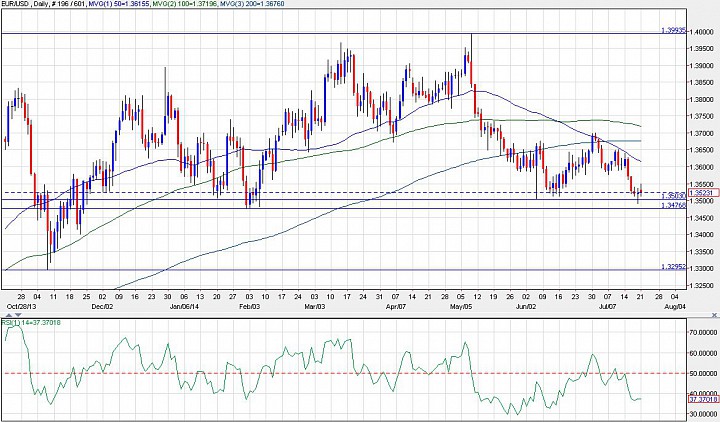 (eurusd daily chart)
1) The bullish trend since mid-2013, seems to have shifted after the 2014-high of 1.3993 was set in May. 
2) Price is trading below the 200-day SMA. After a cross down of the 200-day SMA, it came back to test it as resistance. Now after retreating from resistance, price action is forming a "slingshot" signal, which in this case is bearish. 
3) The RSI in the daily chart tagged 30, and has held below 60. Now that it is falling below 40 again, it reflects building up of bearish momentum, which is why the 2014-low is looking vulnerable now.
A break below the 1.3476 low on the year should open up a bearish attempt toward the 1.3295-1.33 lows from Nov 2013.