Kelcy Warren became a billionaire oil man by making deal after deal, including purchases of thousands of miles of pipelines after Enron Corp. collapsed. Now he is suffering from a severe case of buyer's remorse.
Mr. Warren, 60 years old, has overseen a series of moves that could torpedo the biggest acquisition of his life, such as an unusual convertible preferred share issue that would dilute Williams shareholders and increase his own stake in the combined company.
When Williams Chairman Frank MacInnis called in February to complain, Mr. Warren responded curtly, according to Mr. MacInnis. "No one was going to tell him how to run his company," Mr. MacInnis said in the unredacted version of a court filing reviewed by The Wall Street Journal. The comment is crossed out of a publicly available copy of the filing.
Energy Transfer disputes the comment but says the two men have talked a number of times about what would be in the best interest of shareholders. The company says Mr. Warren isn't trying to kill the deal but is emphatic that it needs to be restructured.
The deal, one of the largest announced in 2015, is now in danger of becoming one of the highest-profile corporate casualties of the oil bust. After Messrs. Warren and MacInnis announced the agreement on Sept. 28, oil prices fell about 40%, though they have since rebounded. The share prices of both companies are still down by roughly half. The tumult also cost Energy Transfer's chief financial officer his job.
The mess shows how vulnerable many deals are to souring financial markets. Deals touted as mutually beneficial when announced can quickly turn better for one side than the other. The same thing happened when credit dried up in the financial crisis and droves of buyers scrambled to get out of deals.
So far this year, about $378 billion in U.S. mergers and acquisitions have been abandoned, more than 40% higher than in all of 2015, according to Dealogic. This year's broken-deal total will be a record even if no more deals fall apart.
Williams has filed lawsuits against Energy Transfer and Mr. Warren over the share issuance, alleging that it cheats Williams shareholders.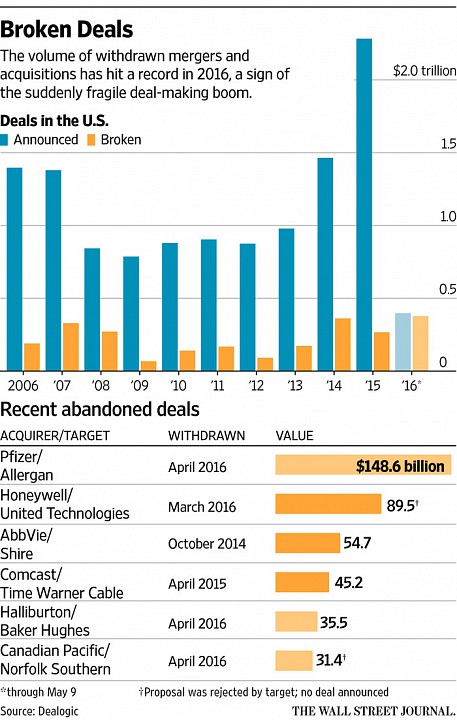 After initially resisting the deal, Williams now is considering asking a judge to force Energy Transfer to complete the takeover, say people familiar with the matter. Williams says a failed deal would cost its shareholders $10 billion in lost value.
Mr. Warren has long kept a tight grip on his sprawling pipeline empire, launched two decades ago. In addition to Energy Transfer, he essentially controls three other publicly traded companies stitched together so complicatedly that some analysts decline to follow them, they say.
He also is one of the country's richest men, with a net worth estimated at $7 billion by Forbes. Mr. Warren owns a private island in Honduras and an 8,000-acre property near Cherokee, Texas, that was once an exotic-animal ranch and is still home to roving zebras and buffalo.
His 23,000-square-foot Dallas mansion, bought for $30 million in 2009, includes a bowling alley and a baseball diamond that features a scoreboard with "Warren" as one of the teams.
He is an avid music fan and owns an independent recording studio that produced in 2014 a Jackson...
More