Summary
The steep market decline commands attention despite a full slate of economic data.
Until there is some stability, speculation about the depth of the correction will dominate.
Jackson Hole and the Fed will get notice later in the week.
The sharp deviation between the economy and stocks continues.
Long-term investors can shop from many companies with little exposure to China or energy.
The big market decline has the attention of everyone, even those who do not closely follow the markets. The week will start with the punditry will be asking:
Is the market decline the start of something big?
Prior Theme Recap
In my pre-vacation WTWA I predicted a rather wonkish theme, wondering whether economic data would confirm the negative message from the commodity markets. The guess about the topic was accurate and the answer was "no." Economic data have continued to show modest growth. This made no difference, since actual economic data remains in disfavor. (Check here for my further thoughts on this theme).
As he does each week, Doug Short's recap explains the story and his great weekly snapshot lets you see it at a glance. With the ever-increasing effects from foreign markets, you might add Doug's World Markets Weekend Update to your reading list. The decline in the last 2 ½ trading days wiped out the year's gains in stocks.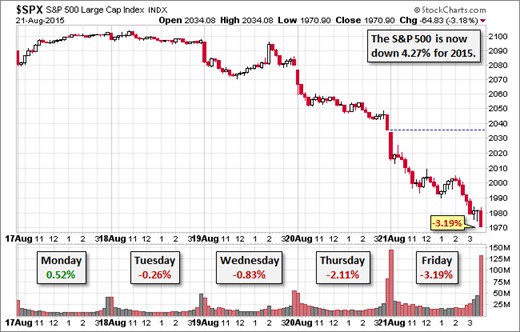 More