Not too many macro catalysts out there this morning, but what has caught my attention so far is the divergence between the Nikkei 225 and the S&P500. While US futures managed to rise overnight, and now test important resistance at 1695, the Nikkei extended its soft posture from the rest of this week.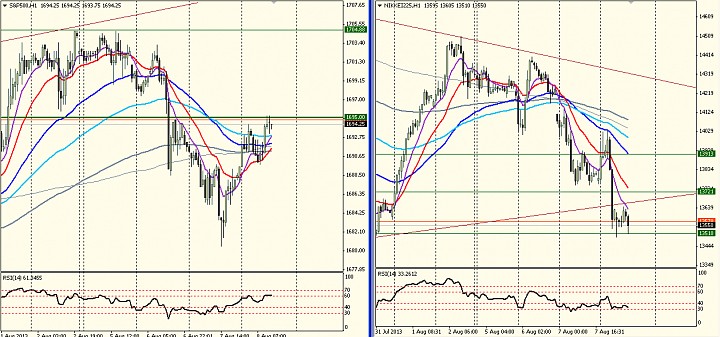 The likely reason is the big debate they are having in the land of the rising sun regarding the consumption sales tax. Following the BOJ meeting, in which officials made no changes to their stimulus measures, BOJ Governor Kuroda advocated the importance of fiscal consolidation, the need for passing some retail sales tax increase in order to help the country's finances, and that the BOJ's projections and expectations around growth factor in the tax hike.
Thank you
ForexLive
for this breakdown:
Kuroda Presser detail now being released after usual embargo
premature to discuss exit strategy for Japan
vital for govt to achieve fiscal consolidation
BOJ forecasts include effects of planned sales tax hike
Japan can recover even if exports don't rise sharply
sees risks linked to overseas economy falling slightly
US economy is strong and there are signs of improvement in Europe
core CPI  +0.4% in line with BOJ forecast
possible to raise sales tax and still escape deflation
even after sales tax hike Japan can expand above its potential growth rate
important in next fiscal year to reduce budget deficit
Chinese growth slowing but will stablize due to domestic demand
BOJ board members wanted to see more hard data showing improvement in Capex
While hiking the sales tax may be the prudent thing to do, its not going to benefit consumers or businesses and the Nikkei doesn't have to like it.
If the Nikkei continues to decline, and can move past the 13510 support level, then in the currency space, we should see a further strengthening of the JPY.
If however, Japanese equities find some support, there is ample room for retracements to be had in JPY crosses.
- Nick