One month ago, an Australian millionaire "discoverd" the cause why US housing refuses to rebound to its pre-crisis levels, and tangentially why Millennials were - at least anecdotally - living if not in their parents basement, then destined to a life of renting: avocado toast. (For a more in depth discussion on Millennials' housing habits, read "Will Millennials Ever Become A Generation Of Homeowners: BofA Has A Troubling Answer").
Tim Gurner, a luxury property developer in Melbourne told 60 Minutes in Australia that young people can't afford to buy property because they're wasting money on fancy "avocado toast" and overpriced coffee.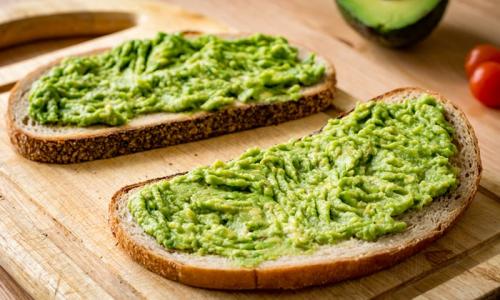 "When I was trying to buy my first home, I wasn't buying smashed avocado for $19 and four coffees at $4 each," he said. "We're at a point now where the expectations of younger people are very, very high."
Tim Gurner believes our housing crisis will be resolved when young Aussies inherit the 'incredible wealth' from the Baby Boomers.

https://twitter.com/hashtag/60Mins?src=hash

pic.twitter.com/iET9sus8qW

— 60 Minutes Australia (@60Mins)

https://twitter.com/60Mins/status/864065346516377600
He added: "We are coming into a new reality where … a lot of people won't own a house in their lifetime. That is just the reality." Asked if he believes young people will never own a home, he responded: "Absolutely, when you're spending $40 a day on smashed avocados and coffees and not working. Of course." The 35-year-old executive then offered a point of comparison, describing how hard he worked when he was young.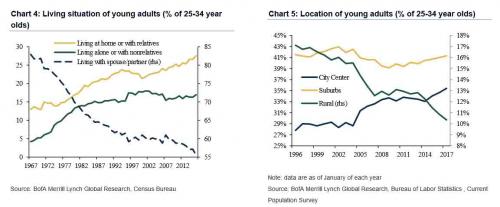 Gurner was not the first to suggest that young people's love of avocado toast was making it harder for them to buy homes. According to the Guardian, demographer Bernard Salt wrote in the Australian last year that if young people stopped going to "hipster cafes", they could purchase property. He wrote: "I have seen young people order smashed avocado with crumbled feta on five-grain toasted bread at $22 a pop and more. I can afford to eat this for lunch because I am middle aged and have raised my family. But how can young people afford to eat like this? Shouldn't they be economising by eating at home? How often are they eating out? Twenty-two dollars several times a week could go towards a deposit on a house."
Well, we have bad news: as of today, the price of raw avocado just hit an all time high, and if the gentlemen mentioned above are correct, it assures an entire generation of Millennials will be doomed to rent or continue living in various parental basements.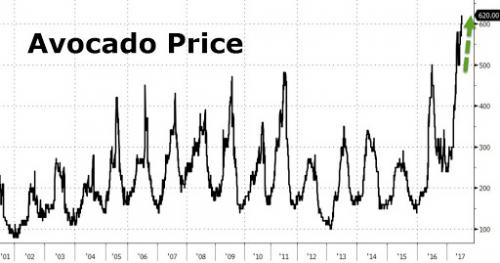 Among other thing, the record high price has been blamed on soaring demand as American per-capita consumption jumped to 6.9 pounds in 2015, versus 3.5 pounds in 2006, according to government data. People are being drawn to the fruit not just for its taste but also for its healthy oils and fats, a trend borne out in the U.S. by Starbucks Corp.'s announcement last month it's selling avocado sandwich spread.
"You have increased consumption in China and other areas of the world, like Europe," said Roland Fumasi, an analyst at Rabobank in Fresno, California. "They're pulling a lot more of the Mexican crop, so there's less available for the U.S."
As Bloomberg reported in April, Mexico supplies 82 percent of the avocados eaten north of the border. Its shipments into the U.S. surged to 1.76 billion pounds in 2015 from just 24 million pounds in 2000, according to data from the Hass Avocado Board in Mission Viejo, California. As a result, in late April a 10-kilogram (22-pound) box of Hass avocados from the state of Michoacan, Mexico's biggest producer, cost 530 pesos ($27.89). The price was more than double what it was a year earlier and the highest in data going back 19 years.
* * *
Meanwhile, piggybacking on the meme of avocados-as-homeownership-equivalent, SoFi, an online personal finance company geared toward younger moneymakers, said today it would "award" anyone who takes out a mortgage through the service a month's worth of avocado toast, delivered straight to their door. So... take out a mortgage that locks you in for 30 years, but get free avocados for a month.
From the purposefully absurd press release:
SoFi Is Offering Avocado Toast for Buying a Home—Yes, Really

Who says you can't have avocado toast if you want to buy a home? Oh, right—an Australian real estate developer who made the comment heard 'round the world about how it's preventing millennials from becoming homeowners.

Obviously, buying a home doesn't mean you have to chuck avocado toast out of the picture. In fact, buying a home now comes with avocado toast.

What we mean by that is, for the month of July 2017 only, anyone who takes out a SoFi mortgage to purchase a home will receive a month's worth of avocado toast delivered to their door. Buy a home using a SoFi mortgage, and you'll receive an email asking whether you want regular or gluten-free bread. Avocados and bread will then arrive in a series of three shipments—though you'll still need to toast the bread yourself to get the full experience.

Why avocado toast? Because with a SoFi mortgage, you don't have to skip out on the avocado toast while saving up for a down payment. SoFi mortgages make it possible to buy a home with just 10% down and no borrower-paid private mortgage insurance required, which could get you into your dream home sooner. It could also make it possible to do that while brunching.

Plus, the SoFi pre-approval process is mostly online and exceptionally fast (paperwork is kept at a minimum). And with flexible debt-to-income limits, SoFi mortgages make it possible to qualify for more financing than you might with a traditional lender. For millennials with student debt, this could be your ticket to a home, rather than opting out of an occasional morning treat.

So, want to buy a home and have your avocado toast, too? Apply for a SoFi mortgage, and once it goes through we'll email you with details about sending you fancy breakfast to pair with coffee on your new kitchen countertop. (Instagram filter optional.)
While it remains to be seen if this gimmicky ad campaign is successful in spurring millennial homeownership, even if it means soaring bad debt for SoFi in just a few short year, for now a far bigger threat to the US housing market is how financially challenged millennials will be able to juggle both their favorite bourgeois meal as well as saving up for that down payment or simply staying current on their mortgage.