Given the fact that for the first time since the recession, manufacturing has added zero jobs this year, that ADP just saw a drop in manufacturing jobs, Markit reports September US Manufacturing PMI has stagnated for the last 2 months at 2 year lows (printing 53.1 final vs 53.0 prelim). Worst still, and confirming even further the demise of the US manufacturing "renaissance", the Employment sub-index dropped to 50.8 - the lowest since June 2013. As Markit sums up,  "The Fed is therefore likely to keep an open mind as to whether tighter policy is appropriate given current economic conditions and await a clearer idea of the health of the economy in the fourth quarter." On a side note Canadian manufacturing PMI printed at a post-recession low.
Manufacturers indicated another slowdown in employment growth during September, with survey respondents citing the uncertain business outlook and reduced pressure on capacity. Moreover, the latest rise in staffing levels was the slowest in the current 27-month period of expansion.

 

 

September data also highlighted ongoing caution in terms of stock levels, with post-production inventories falling for a second month running.
The headline print remains stagnant at 2 year lows...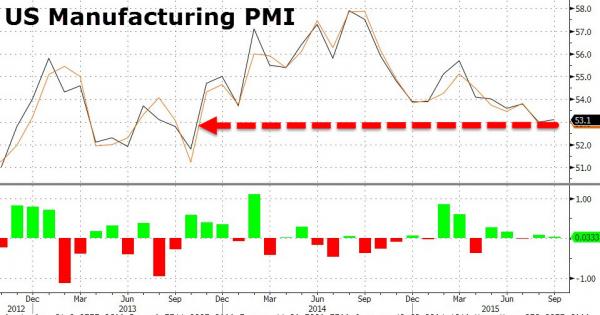 Commenting on the final PMI data, Chris Williamson, chief economist at Markit said:
"The US manufacturing sector has seen a distinct loss of growth momentum in recent months, endured the worst performance for two years during the third quarter. Headwinds include the rising dollar, weak demand in global markets, a downturn in business investment and financial market jitters.

 

"We must remember, however, that the manufacturing sector only accounts for around one-tenth of the economy, and robust service sector data – as indicated by last week's flash PMI results – indicate that the wider economy remains in good health, albeit with signs that businesses have become more worried about the outlook. The survey data suggest that the economy continued to grow at a 2.2% annualised rate in the third quarter and added 207,000 jobs in September.

 

"The manufacturing slowdown therefore will be insufficient on its own to deter the Fed from hiking rates later this year, but adds a warning light that the pace of economic growth is set to slow as we move into the final quarter of the year. The Fed is therefore likely to keep an open mind as to whether tighter policy is appropriate given current economic conditions and await a clearer idea of the health of the economy in the fourth quarter."
Charts: Bloomberg