In 2013, Samoan Air became the world's first airline to charge passengers according to their their weight. Now, two years later, Uzbekistan Airways has gone one further than the pay-by-weight model. The Tashkent-based airline has installed special weighing machines in the departure gate zones to weigh people and their hand luggage, noting that some overweight people could be excluded from busy flights on smaller planes if limits are exceeded.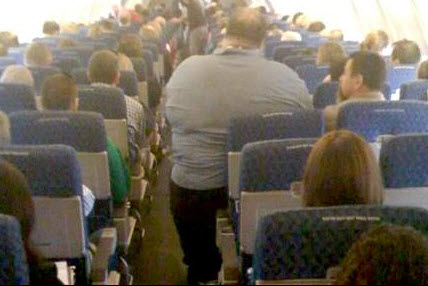 Passengers will be put in three categories - men, women and children - and the company, who are based in Tashkent, have promised not to reveal the weight of individual passengers.
Of course, its for your own safety...
The company said they needed to know the weights of both people and their luggage because it was important, especially with smaller planes.

 

In a statement they said: 'Uzbekistan Airways airline is carrying out the procedure of pre-flight weighing in order to determine the average weight of passengers with hand luggage.

 

'According to the laws of the International Air Transport Association, airlines are obliged to carry out regular procedures of pre-flight control such as weighing passengers with hand luggage in order to observe the requirements for ensuring flight safety.

 

'After passing check-in on a flight and prior to boarding into the aircraft, we will ask you to pass the weighing procedure with a special weighing machine placed in the departure gate zone.

 

'The weighing record will only contain the corresponding passenger category (i.e. male/ female/ children). As for the rest, the full confidentiality of results is guaranteed.

 

'We appreciate your assistance and thank you in advance for the help in the solution of our common task of flight safety.'
This is not the first time an airline has instituted the pay-as-you-weigh model, but Uzbekistan's plan to exclude heavier passengers is an escalation... (as CNN reports)
"The next step is for the industry to make those sort of changes and recognize that, 'Hey, we are not all 72 kilograms [about 160 pounds] anymore and we don't all fit into a standard seat,'" Chris Langton, Samoa Air chief executive told CNN in 2013.

 

"What makes airplanes work is weight. We are not selling seats, we are selling weight."
The airline's motto?
"A kilo is a kilo is a kilo!"
Of course, the truly sad thing about the airliness need to do this is the 'growing' gurth of a global population spoiled by fake wealth.
*  *  *
Of course, there is always alternative travel methods...
*  *  *
Finally. there is this... (via The Guardian)
A man is suing an airline, claiming he injured his back after sitting next to an obese man who coughed a lot.

 

James Andres Bassos has taken Etihad Airways to court in Queensland, Australia, saying he was forced to twist and contort his body for long periods on a flight in 2011 from Sydney to Dubai.

 

Bassos's district court claim states the "grossly overweight" passenger was spilling into his seat, coughing frequently and had fluid coming from his mouth.

 

After five hours he asked to be moved but airline staff allegedly refused. Half an hour later, Bassos complained again and he was moved to a crew seat.

 

However, he had to return to his seat next to the man later for another hour, and again for the final 90 minutes of the flight for security reasons, according to court documents.

 

Bassos is claiming damages for personal injuries, saying that being forced to twist his body for such a long time to avoid contact with the other passenger gave him a back injury and exacerbated an existing back condition.
Seriously...