Europe is awash with low-priced natural gas, thanks to Russia and Norway using a Saudi-like tactic to hold market share.
Utilities from EON SE to Centrica Plc are beneficiaries as Europe's two biggest gas suppliers provided a record amount of the fuel in the first quarter, according to Societe Generale SA. The glut discouraged cargoes of U.S. liquefied natural gas and contained growth of imports from Qatar.
There are parallels with the global oil market where Saudi Arabia, the biggest producer, boosted output last year to fend off U.S. shale drillers as crude prices collapsed. Gas in the U.K., the region's biggest market, fell 38 percent in the past year and the plunge couldn't have come at a worse time for Cheniere Energy Inc., which just started exports of U.S. LNG and has so far sent one tanker to Europe.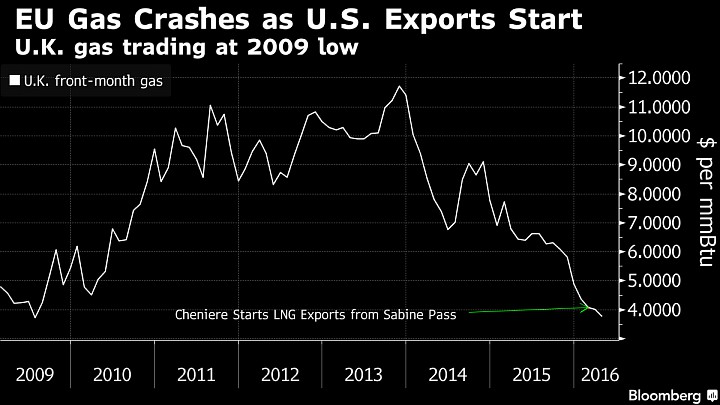 "There is a threat of price wars and every competitor is getting ready," said Valery Nesterov, an analyst at Sberbank CIB in Moscow with more than four decades experience in energy. "They will have to work hard to keep -- let alone increase --their market shares, including through policies that can be borrowed from the oil industry."
Saudi Policy
Russian gas is competitive and Gazprom PJSC's market share is rising naturally amid declining European production, Sergei Kupriyanov, a Gazprom spokesman, said by e-mail.
Statoil ASA, Norway's state-controlled producer, sells to where it gets the best price and market share "is a consequence of this approach, and not a goal," Elin Isaksen, a spokeswoman...
More