The EUR/CAD has been bullish since the low on the year in April, at 1.3022. The rally accelerated last week and pushed to 1.5560. This week, we are seeing a strong rejection and a possible suggestion of pending consolidation at least in the short-term.

EUR/CAD Daily Chart 8/26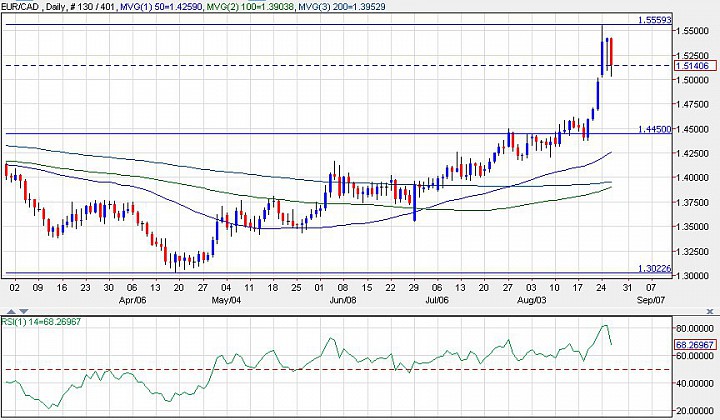 (click to enlarge)

The daily chart shows the market creating a possible top at 1.5560. Its still too early to call it a top though, so let's take a look at the price action in the 4H chart:
EUR/CAD 4H Chart 8/26

(click to enlarge)

The 4h chart shows that price action over the past 3 sessions has been forming a double top. IF this double top holds, there is downside risk in the short to medium-term to 1.4793 and the 1.4614 pivots. But again, it is still premature to call this a top. With such a strong prevailing uptrend, I would like a few more price top clues. 

EUR/CAD 1H Chart 8/26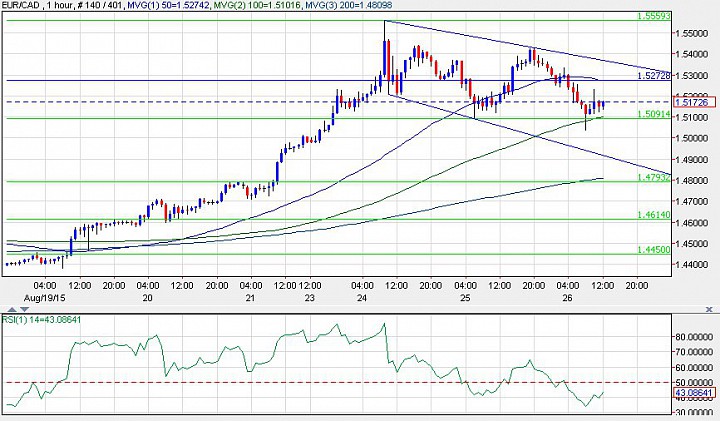 (click to enlarge)
The price action in the 1H chart offers another perspective instead of the double top. Either way you look at it, there is a key resistance pivot around 1.5273. I would say that the 1.5275-1.53 area is critical in the very short-term. I think if price can hold under 1.5275 for the most part, there would indeed be downside risk towards at least 1.48. Of course, we will first have to deal with the psychological level of 1.50 where price might stick around in the short-term. 

Consolidation Trading Idea: Essentially, I am considering selling around 1.5275 with a stop above 1.53 and a target of 1.50. However, if price does not bounce back and continues lower towards 1.50, I would watch for a bullish divergence between 1H price action and the 1H RSI for a cue to buy with target of 1.5275 and a stop below 1.50.