This was a difficult morning. My dog hates going to the vet, but it was that time. After the appointment I was feeling a little hungry for a late breakfast or early lunch before the Federal Reserve presentation and decided to visit the McDonald's (NYSE:MCD) across the parking lot. While I was there, I made some observations.
McGriddles have McMargins
I figured my heart was due for something thoroughly unhealthy, so I ordered a Bacon, Egg, and Cheese McGriddle. The picture below shows how this McGriddle is usually presented: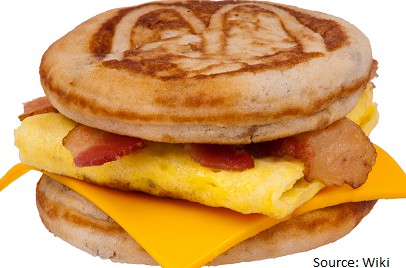 The one I received looked somewhat like the picture, except the picture suggests the presence of a notable amount of Bacon rather than one half to one third of a single strip. The entire McGriddle fit in the palm of my hand with plenty of space left over.
Margin Growth
While the discussion of all day breakfast centers on expanding sales, it may be wise to consider the impact on margins as well. Some of these breakfast menu items have very strong margins. Detractors arguing against McDonald's may focus on the poor food quality (which is improving) or they may point to increasing labor costs from higher minimum wages. Both are legitimate points, but a move to higher margin items should result in what industry executives refer to as a "favorable mix" from customers ordering higher margin items. Expanding the hours that these high margin items are served should be a very favorable development for EBITDA margins.
Grill Space
When McDonald's took questions from customers before, they had a typical but honest response for not offering all day breakfasts:
"Here's the thing: it comes down to the sheer size of kitchen grills. They simply don't have the room for all of our menu options at one time - especially considering we use our grill to prepare many items on our breakfast menu.
But we're always looking for ways to better meet our customers' needs. For example, many restaurants offer breakfast before 5:30am. And our McDonald's After Midnight menu features some of our customers' favorite breakfast and dinner menu options to mix and match to create Midnight Value Meals."
The argument there is entirely legitimate. McDonald's built their brand on operational efficiency. They didn't make the best burger but they found a way to make a burger using a labor force of high school students. They build restaurants to avoid wasting space and any item requiring cooking space needs to be pulling its weight in producing profits for the location owner. In that sense, the high margin items from the breakfast menu should be attractive to franchisees. Remember that McDonald's is charging royalty fees off gross revenues, so franchisees benefit a great deal from higher margin items.
Time for New Technology
With McDonald's looking to increase sales through a combination of all day breakfasts and offering higher price (hopefully higher quality) burgers, everything is going to rely on excellent in kitchen operations. In order to do that McDonald's is going to have be intelligent with their use of technology to improve operations. Having a kiosk for customers to order food is certainly a material improvement in both cost structure and space relative to having an employee taking orders. However, McDonald's may benefit quite a bit if they can redesign some of their kitchen spaces to increase automation.
Over the next couple years look for McDonald to make an announcement or two regarding some improvements in the kitchen. Since their locations are already physical established and they have seen location volume shrinking, building new stores with larger kitchens is not a major source of growth. Existing locations will require some redesigning to create more grill space. In doing so, McDonald's may want to start shifting from using the labor to cook to using labor to clean and maintain a system with more automation. Using less human labor does more than reduce the wage cost of operating a restaurant; it also reduces the amount of space required for those workers inside the kitchen. Such a change would require cash investments from franchisees to upgrade their kitchens. For corporate locations, it would also require a cash investment that would be depreciated over the next several years. The result would be shorter cash flow margins (due to cash expense for equipment) and restaurant margins (due to depreciation) in the very near term. On the other hand, EBITDA margins would start to improve quickly.
Conclusion
McDonald's is making a wise move to strengthen margins and sales. To fully implement these new approaches, McDonald's may need to make some serious investments in upgrading equipment company owned stores and encouraging franchisees to make those investments in upgrading their stores. The long term benefits of a shift to enhance grill space through more extensive automation would significantly reduce the impact of higher minimum wages. Because this would require a significant cash costs, it could reduce dividend growth in the short term as the company would need to conserve cash to pay for the capital expenditures. Given the importance of their dividend history, I would be shocked to see McDonald's make any dividend reductions, it would make more sense to simply reduce the growth rate over the next several years before scaling it up again.
Additional disclosure: Information in this article represents the opinion of the analyst. All statements are represented as opinions, rather than facts, and should not be construed as advice to buy or sell a security. Ratings of "outperform" and "underperform" reflect the analyst's estimation of a divergence between the market value for a security and the price that would be appropriate given the potential for risks and returns relative to other securities. The analyst does not know your particular objectives for returns or constraints upon investing. All investors are encouraged to do their own research before making any investment decision. Information is regularly obtained from Yahoo Finance, Google Finance, and SEC Database. If Yahoo, Google, or the SEC database contained faulty or old information it could be incorporated into my analysis.
More