S&P 500 - THE HIGHS & LOWS OF THE PAST; WHERE WILL IT FALL NEXT?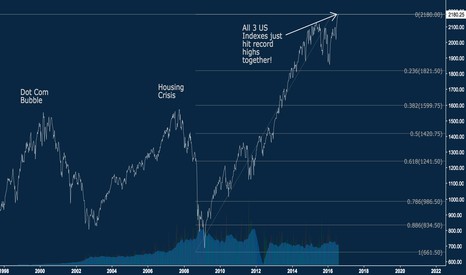 I am watching, as many are, the current US indexes and their recent all-time highs. We've hd0.00%% record day independently but Friday they all hit new highs. People I know are shorting SP5000.00%% , buying gold0.00%% like crazy, etc. but though this is an epic day, it might not be done climbing yet. Now, I agree that things will reverse. But it's a matter of when that will secure a good entry into any trade. You could add slowly to your position in case you are not right at the peak entry or wait for it to show signs of pullback. Personally, I will most likely only trade metals. I thought of shorting DOW30 or ES since on margin it would make a great profit but indexes require a different type of study and attention as oppose to just Gold0.00%% or Silver0.00%% (though not both are the same either in perfect unison).

NO TRADE HERE - Just something interesting to watch as time moves on for years.