The retail-drugstore space is in the limelight once again. One of the major industry players, Rite Aid Corporation RAD, saw its shares plummet as much as 26.5% yesterday, as its long-awaited acquisition by Walgreens Boots Alliance Inc. WBA was terminated. As expected, this news made Fred's, Inc.'s FRED investors jittery, leading its shares to crash 22.8%. This is because, to satisfy regulatory concerns for the merger, Walgreens could have sold up to 1,200 Rite Aid stores to Fred's, thus giving it a chance to be the third-largest industry chain nationwide.

Incidentally, Rite Aid and Fred's had surged 30% and 23% respectively, just three days back, on speculations that the long-delayed merger could finally see the light of day. However, their hopes were thwarted after receiving the feedback from Federal Trade Commission's (FTC) closed door meeting, which was conducted yesterday. Apparently, the feedback had dropped hints that Walgreens and Rite Aid might not be able to receive FTC's approval, thereby leading them to call off the blockbuster deal.

The deal has been awaiting FTC's approval ever since the announcement of the agreement in Oct 2015. FTC's concerns were mainly regarding the lack of a strong competitor in the drugstore space. With Walgreens and Rite Aid being the second and third-largest drugstore chains in the U.S., the FTC believed the merger could give rise to a duopoly, leaving behind the industry leader (by size) – CVS Health Corporation CVS.

The Brighter Side of the Story

Nonetheless, Walgreens' shares gained 1.7% yesterday, as it entered into a new agreement with Rite Aid. Per the deal, Walgreens will buy 2,186 Rite Aid stores, associated distribution assets and inventory. This all-cash deal worth $5.175 billion is expected to conclude in six months, on a cash-free and debt-free basis. Apart from this, Rite Aid will also get termination charges of $325 million from Walgreens, in cash.

The aforementioned stores to be sold are primarily situated in the Northeast, Mid-Atlantic and Southeastern parts of the United States. The three distribution centers, which are also part of the agreement, include those which are housed in Dayville, Conn., Philadelphia and Spartanburg, S.C. Further, the new transaction allows Rite Aid to buy generic drugs sourced through a Walgreen's affiliate, at cost price for about 10 years. On the other hand, Rite Aid will provide certain transition services to Walgreens for up to three years post the deal closure. Approved by the directors of both the companies, this deal remains subject to antitrust clearance.

How is RAD Placed?

While the merger termination came as a blow to Rite Aid, management expects the new agreement to place the company as an independent drugstore chain, alongside being a pharmacy benefit manager with robust control in core markets. Well, Rite Aid will continue to operate its pharmacy benefit manager – EnvisionRX, RediClinic and Health Dialog.

Further, Rite Aid intends to use the funds from this deal to pay down a part of its huge debt, thus improving its leverage levels, easing its balance sheet and improving its financial flexibility. Additionally, some recent market speculations reveal that Amazon.com Inc. AMZN is trying to make its way into the pharmacy space, where Rite Aid could be its next target. Clearly, the e-Commerce giant that recently announced its intention to buy Whole Foods Market WFM, is on a spree to explore every facet of the retail sector. Chances of takeover by Amazon places Rite Aid in a safe harbor.

All said, this deal is likely to make Rite Aid a smaller, yet a stronger firm with lesser exposure to the pressures of unfavorable pharmacy reimbursement rates, which has been a hindrance for the company for quite some time now. This was also evident from Rite Aid's first-quarter fiscal 2018 results that were released concurrently with this news.

A Synopsis of Q1

Rite Aid posted adjusted loss of 5 cents per share for the first quarter that was wider than the Zacks Consensus Estimate of a loss of 2 cents. Also, this compared unfavorably with the year-ago period earnings of 2 cents. Further, revenues descended 4.9% to $7,781.5 million, while it came in line with our estimate. During the quarter, Retail Pharmacy segment revenues slipped 4.9%, and revenues from the Pharmacy Services segment dropped 5.6%.

Further, same-store sales declined 3.9%, owing to lower pharmacy and front-end sales. Pharmacy comps included a negative impact of 222 basis points (bps) due to the introduction of new generic drugs. Also, prescription count at comparable stores dipped 1.1%. Prescription sales constituted 67.9% of total drugstore sales and third-party prescription sales accounted for 98.3% of pharmacy sales.

Rite Aid's adjusted EBITDA slumped about 32.7% year over year to $192.6 million. This was due to a fall in adjusted EBITDA contributions from Retail Pharmacy segment mainly owing to reduced reimbursement rate. This was somewhat compensated by efficient cost curtailment.

Rite Aid stores continue to renovate, with 67 outlets remodeled, 1 opened and four relocated in the quarter under review. This brings the company's total wellness stores count to 2,482. Further, the company shut 14 stores during the reported quarter, thus getting the total store count to 4,523 as of Jun 3, 2017.

It looks like the dismal first-quarter outcome also contributed to yesterday's downfall. In fact, yesterday's slump has caused Rite Aid's shares to plunge 64.9% on a year-to-date basis, underperforming the Zacks categorized Retail–Pharmacies and Drug Stores industry's dip of 3.3%.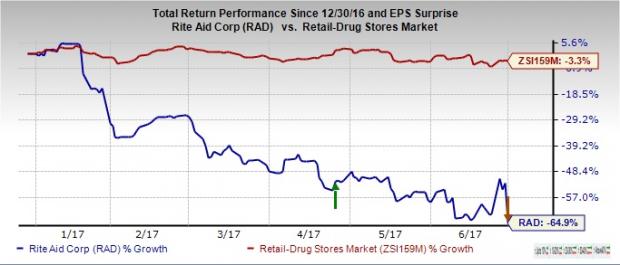 The Bottom Line

The new deal with Walgreens was totally unexpected for Rite Aid's investors. That said, we believe that both Walgreens and Rite Aid should benefit from this fresh contract. While the gains for Rite Aid have already been discussed, Walgreens should benefit from the strengthened store base that will extend its network in core U.S. markets. This was obviously not well-received by CVS Health investors, as its shares lost 1.2% yesterday.

Rite Aid currently carries a Zacks Rank #3 (Hold).

You can see the complete list of today's Zacks #1 Rank (Strong Buy) stocks here.

5 Trades Could Profit ""Big-League"" from Trump Policies

If the stocks above spark your interest, wait until you look into companies primed to make substantial gains from Washington's changing course.

Today Zacks reveals 5 tickers that could benefit from new trends like streamlined drug approvals, tariffs, lower taxes, higher interest rates, and spending surges in defense and infrastructure. See these buy recommendations now >>
Want the latest recommendations from Zacks Investment Research? Today, you can download 7 Best Stocks for the Next 30 Days.
Click to get this free report
Amazon.com, Inc. (AMZN): Free Stock Analysis Report
Fred's, Inc. (FRED): Free Stock Analysis Report
Rite Aid Corporation (RAD): Free Stock Analysis Report
CVS Health Corporation (CVS): Free Stock Analysis Report
Walgreens Boots Alliance, Inc. (WBA): Free Stock Analysis Report
Whole Foods Market, Inc. (WFM): Free Stock Analysis Report
To read this article on Zacks.com click here.
Zacks Investment Research