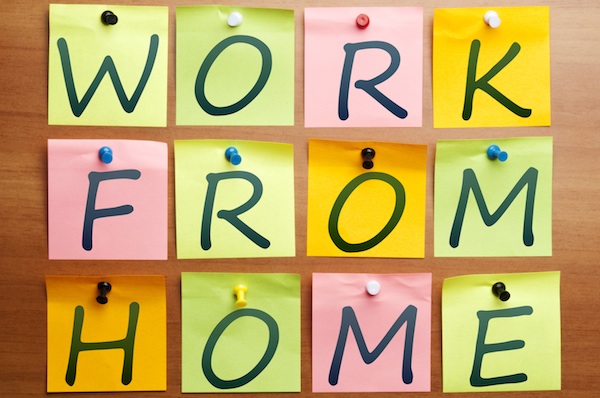 Guest Post by one of our Personal Finance bloggers. Let us know if you would like to read more of these type of articles. 
Even if you're working hard with your 9 to 5 job, chances are you still find it hard to make both ends meet. If you're not as lucky as Donald Trump and other gazillionaires, you might as well find other ways to overcome your financial problems.
Luckily, there are a thousand and one ways to earn extra income without leaving the comfort of your home. Nowadays, you can find different ways to earn money through the Internet. If you wish to keep your old job and earn extra while at home, now you can do so. In fact, not a few have taken the jump and quit their day job to focus on earning their keep while working at home.
Here are some easy ways you can make money from home:
Freelance
More likely than not, you have a special talent or capability that you can capitalize on. If you are adept in writing, become a freelance writer. There is a huge number of jobs online waiting for different kinds of writers. Websites such as oDesk and Elance are always looking for academic writers, creative writers, technical writers, editors, journalists, and proofreaders to answer the thousands of job postings in their site.
Researchers are also in high demand online. Students and professionals alike require help with their schoolwork and other projects that require research. Take advantage of your flair for researching and love for reading to make money while helping these people out.
Even if you don't have a God-given talent, you can still learn something that can be useful, especially when it comes to earning money. Invest on learning about different computer programs which are in high demand as well. Learn a thing or two about such apps as PowerPoint, Photoshop, and Dreamweaver. You can also study graphic designing, web designing, sound engineering, website maintenance and other things that offer a number of job opportunities online.
Arts and Crafts
When you have lots of time in your hands, it's good if you have some sort of hobby. It's even better if you can use that hobby to earn a little extra. If you know how to draw, paint, sew, knit and sculpt, then you can make money online. You can also make jewelry, stuffed animals and other sellable items. Sell all your creations online through sites such as Amazon and eBay.
Sell
As mentioned, you can sell things you do online. You can also sell pre-owned stuff. If you need extra cash and you have tons of old things at home, you can sell them for a low price through eBay and other sites. Instead of letting your old clothes, bags, vinyl collection and other such stuff rot in your home, why not make money out of them.
Offer Your Services
The best job you can ever have is something that you actually love doing. Who wouldn't want to earn a living doing what you love? This applies to earning from home as well. If you love to cook or bake, offer your services online and cater to small parties. Are the parties and family reunions you organize always a hit? Maybe you can peddle your party-planning skills online.
If you're really up to it, you can make money outside of a regular job. All you need is a little imagination and determination to earn and overcome your financial woes.