Shares of Alphabet Inc. GOOGL opened slightly higher on Wednesday as the company looks to rebound from some brief volatility related to hardware concerns in its new Pixel 2 phones. Nevertheless, investors should certainly still expect the company's earnings announcement to hog the headlines this week.
While a shift to mobile computing once threatened Google's traditional search business, management has successfully adapted to changing consumer trends by expanding its operations into nearly every corner of the modern tech world.
Today, Google and the other subsidiaries under the Alphabet umbrella sit on the cusp of dominance in several booming industries, including cloud computing, mobile payments, ecommerce, and artificial intelligence. Of course, search is still the company's bread and butter, but there's plenty more to be excited about if you're an Alphabet investor right now.
Shares of GOOGL have gained nearly 25% year-to-date, and the stock is currently sporting a Zacks Rank #3 (Hold). What's more, Alphabet has met or surpassed the Zacks Consensus Estimate in four out of the five trailing quarters.
Heading into Alphabet's report date, our current consensus estimates are calling for the company to post earnings of $8.43 per share and revenues of $21.94 billion. While GOOGL's profits are projected to slump about 6.9% year-over-year, the company's top line growth is expected to hit an impressive 20.1%—underscoring the potential for its expansion efforts to pay off down the line.
Of course, earnings and revenue are just two of the many things investors will be looking at when Alphabet reports on Thursday. Check out these three additional things to expect: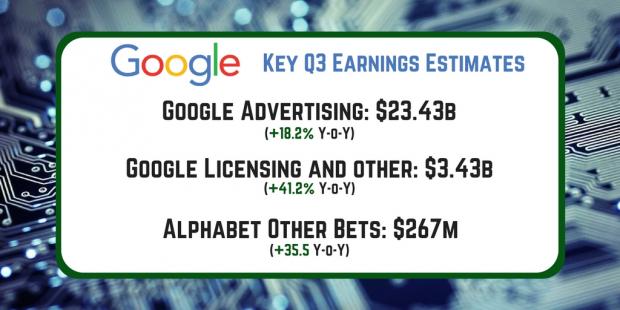 These important stock drivers are from our exclusive non-financial metrics consensus estimate file. These estimates are updated daily and are based on the independent research of expert stock analysts. Learn more here>>>
First up, we should note that Google's advertising revenues are projected to swell by more than 18% in the quarter. Interestingly enough, Google's ad business has been a cause for some concern over the past few years. Advertisers tend to value mobile ads less, so a shift to a mobile-first world meant lower cost-per-click figures for Google.
Nevertheless, growth in total paid clicks has outpaced the decline in cost-per-click and led to rising advertising revenues. Last quarter, Alphabet narrowly edged our consensus estimate in this category and notched growth of 18.4%. If the company's core business can outperform our expectations again, investors should be ecstatic.
Still, Alphabet's most exciting growth prospects come from its "Google other revenues" category. This unit includes revenues from the company's Google Play Store, as well as its Google Cloud offerings and hardware initiatives.
Based on our latest consensus estimates, we expect Alphabet to report Google other revenues of $3.43 billion. That would represent growth of more than 41% from the $2.43 billion recorded in the year-ago period.
Finally, we should see impressive growth in Alphabet's mysterious "Other Bets" unit. The company uses this segment to lump together its smaller projects, and for the most part, these projects don't generate much revenue.
But some of the Other Bets subsidiaries—including Google Fiber, Nest, and Verily—are adding to Alphabet's top line. According to our consensus estimates, we expect Alphabet to report Other Bets revenues of $267 million this quarter, up from the $197 million seen last year.
Make sure to check back here for our full analysis of Alphabet's actual results tomorrow!
Want more stock market analysis from this author? Make sure to follow @
https://twitter.com/Ryan_McQueeney
on Twitter!
Zacks' Hidden Trades
While we share many recommendations and ideas with the public, certain moves are hidden from everyone but chosen members of our portfolio services. Would you like to peek behind the curtain today and view them?
Starting today, and for the next month, you can follow all Zacks' private buys and sells in real time. Our experts cover all kinds of trades: value, momentum, ETFs, stocks under $10, stocks that corporate insiders are buying up, and companies that are about to report positive earnings surprises. You can even look inside portfolios so exclusive that they are normally closed to new investors. Click here for Zacks' secret trades>>
Want the latest recommendations from Zacks Investment Research? Today, you can download 7 Best Stocks for the Next 30 Days.
Click to get this free report
Alphabet Inc. (GOOGL): Free Stock Analysis Report
To read this article on Zacks.com click here.
Zacks Investment Research