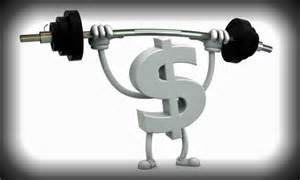 One of the biggest headwinds on companies right now is the strengthening U.S. dollar. We are in the midst of earnings season, and quarterly reports so far show a familiar trend, which is that a strong U.S. dollar is a double-edged sword.
On one hand, a strong currency is a symptom of a strong economy. Third-quarter U.S. GDP growth clocked in at a 5% annualized rate. In addition, the labor market continues its steady recovery. John Biers at AFP wrote "The dollar has been on a tear in the wake of mostly improving data on US jobs and economic growth." On the other hand, a strong domestic currency weighs on earnings for multi-national corporations. Companies who do business overseas see their foreign sales converted into fewer U.S. dollars when the dollar strengthens against other currencies.
However, investors should not overreact to declining stock prices based on negative effects of currencies. Currency fluctuations are outside a company's control, and are not evidence of a deteriorating business. If anything, investors should view stock declines based on currency movements as a great buying opportunity.