1) Goldman Slams Tesla
Electric car superstar Tesla (TSLA) took a -7.2% tumble down to $327.30 after Goldman Sachs analyst David Tamberrino slammed the stock.
Tamberrino reiterated his 'Sell' rating on Tesla shares, and lowered his 6-month target price to $180 from $190.
To be fair, Goldman has been wrong on Tesla, which until the last week or so, has been one of the strongest stocks in the market: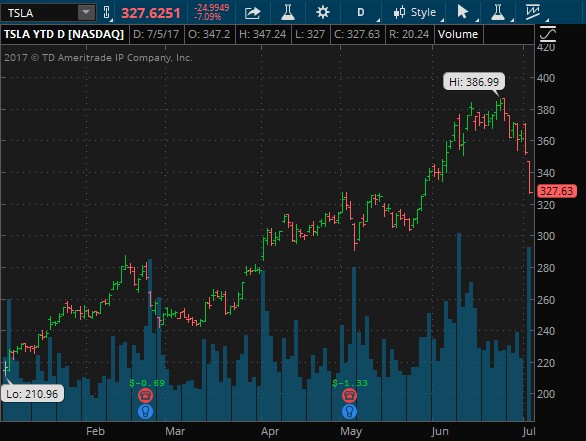 Tamberrino said he sees "potential for downside as the Model 3 launch curve undershoots the company's production targets and as 2H17 margins likely disappoint."
He added that Tesla's Model S and Model X vehicles may be seeing plateauing sales.
Tesla doesn't report earnings until August 2, so we may not get a clear ready on the company's outlook until then.
However, I would keep an eye on CEO Elon Musk's Twitter account, where he's been known to go after Tesla bears.
Nearly 30% of Tesla's float is sold short, and a well-timed Tweet from Musk could send the stock higher in short order.
On a related...
More