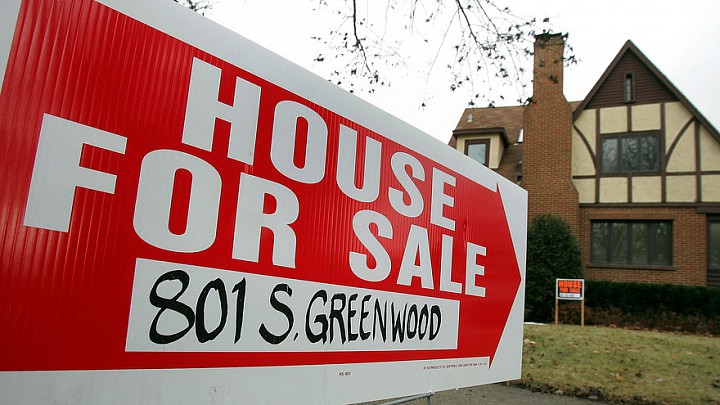 U.S. stocks moved sharply lower on Thursday for a third session, led by a slide in technology, consumer and financial stocks.
Investors continued to grapple with falling oil prices, turbulent foreign exchange markets and uncertainty about the timing of the first interest-rate increase in nearly a decade.
Mixed economic reports as well as a conflicting message from the Federal Reserve in the minutes from the latest policy-setting meeting added to nervousness among investors.
"Investors are realizing that the reason for pushing back the timing of the first rate hike to December may be due to deflationary pressures from the rest of the world," said Chris Gaffney, president at EverBank World Markets.
"Meanwhile, an overnight shock from emerging market currencies and a continued rout in oil prices, is prompting investors to flee equities and pile into havens such as Treasuries and gold," Gaffney said.
The nervousness on Wall Street was apparent from a jump in the CBOE Volatility index VIX, +12.59% which has gained more than 30% to 16.65 over the past three trading days. Meanwhile, U.S. Treasuries and gold rallied.
The S&P 500 SPX, -1.22% fell 23 points, or 1.1%, to 2,056.43. The Dow Jones Industrial Average DJIA, -1.33% dropped 218 points, or 1.3%, to 17,129.39 with all 30 of its components trading lower. The Nasdaq Composite COMP, -1.82% was down 66 points, or 1.3%, at 4,953.14, with its heaviest-weighted member Apple Inc. AAPL, -2.82% sliding 2.5%.
The day's data included a rise in weekly jobless claims that nonetheless signal the labor market remains healthy, better-than-expected existing-home sales, strong manufacturing data from the Philadelphia Fed and a drop in the index of leading economic indicators.
The minutes from the Federal Reserve's July policy meeting released on Wednesday suggested a rate increase in September may still be on the table, but also showed several policy makers feel inflation is too low to push up rates for the first time in nearly a decade.
"With mixed messages from the Federal Reserve, the likelihood of...
More