Plunging iron ore prices and growing bets the Federal Reserve will tighten monetary policy suggest Reserve Bank of Australia Governor Glenn Stevens could gain relief from his strong-currency headache.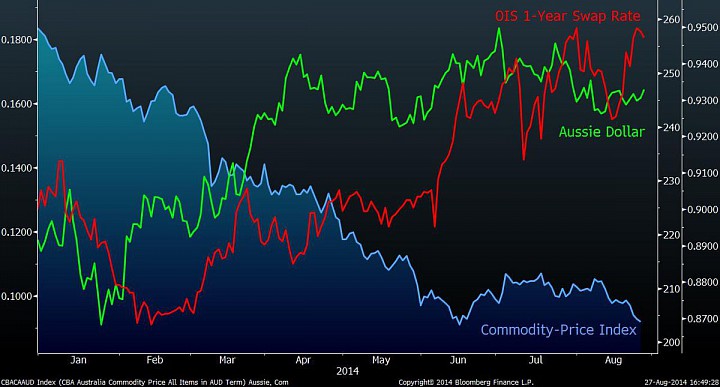 The CHART OF THE DAY shows a deepening divergence between an Australian dollar that remains above its 91.5 U.S. cent average since Stevens took office in September 2006, and a slide in prices for the country's commodity exports as tracked by a Commonwealth Bank of Australia index. Interest-rate differences are also set to work against the Aussie with traders of one-year overnight index swap contracts pricing in a greater chance that Stevens's U.S. counterpart, Janet Yellen, will raise borrowing costs next year.
"The risk that it goes down materially at some point is being under appreciated," Stevens told a parliamentary panel in Brisbane Aug. 20 when asked about the Aussie. "I cannot see the logic for it not being a bit lower at some point than it is today."
The Australian dollar -- which traded above $1.10 in 2011 as the nation's terms of trade peaked -- is the best-performing Group of 10 currency this year, having strengthened 4.7 percent. That gain has come even as iron ore prices slumped 34 percent in response to weaker Chinese demand for the steel component. It bought 93.6 cents at 11:56 a.m. in Sydney today.
The Aussie's strength is an impediment to policy makers' efforts to boost domestic-growth drivers and encourage hiring of former miners in an economy where unemployment reached a 12-year high of 6.4 percent in July. The RBA board cut the overnight cash rate target by 2.25 percentage points to a record-low 2.5 percent in an almost two-year easing cycle.
In the U.S., where unemployment is 6.2 percent and rates are close to zero, traders are pricing in about a 75 percent chance rates will be raised by September. Stevens is open to intervention "if it seems appropriate," he said in Brisbane. "I am not going to give advance warning to the world's investors about when it might be done -- if you don't mind!"
via bloomberg