Just nine
https://twitter.com/BorisNemtsov/status/571297591457128448
"Putin annexed Crimea and is now handing over Siberia to the Chinese," and three ours after calling for a "Russian Spring" march,
prominent Vladimir Putin critic and former deputy prime minister (
in March 1997 Nemtsov was appointed First Deputy Prime Minister of the Russian Federation, with special responsibility for reform of the energy sector)
, Boris Nemtsov, was killed in the center of Moscow
.
 As The BBC notes, the Russian opposition politician and former deputy PM was shot to death on a Moscow street. Life News is reporting he was shot in the chest four times on a street very close to Red Square.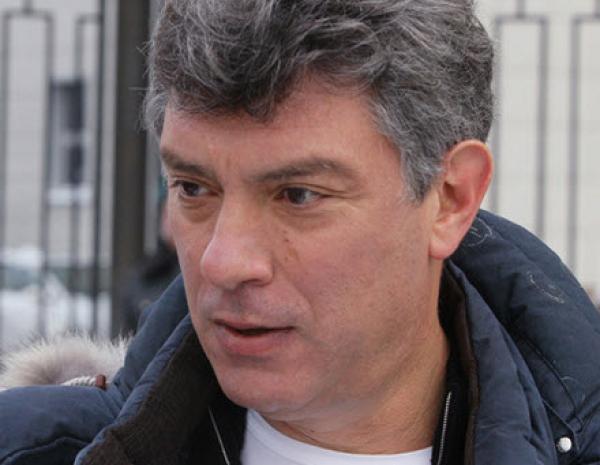 Nemtsov's last 2 tweets today...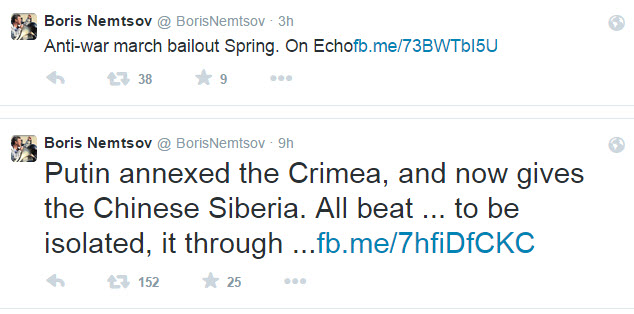 The scene of the murder:
Appears to be the 1st photo of body of Boris

https://twitter.com/hashtag/Nemtsov?src=hash

, shot dead near Kremlin in central

https://twitter.com/hashtag/Moscow?src=hash

tonight.


https://twitter.com/IlyaYashin

pic.twitter.com/3QEFozn45R

— Silver Surfer (@RobPulseNews)

https://twitter.com/RobPulseNews/status/571433269671145473
https://twitter.com/hashtag/BREAKING?src=hash

: First image from the crime scene where

https://twitter.com/hashtag/Nemtsov?src=hash

was murdered. *GRAPHIC* pic.twitter.com/kms4nKKebQ

— Yury Barmin (@yurybarmin)

https://twitter.com/yurybarmin/status/571434062142812160
Late on the Friday night in downtown Moscow on Vasilevsky Spusk was killed prominent politician Boris Nemtsov.

 

According to preliminary data, the killer shot four times at the 55-year-old politician and fled the scene. The opposition leader died on the scene of the shooting.

 

The death of the politician was confirmed by his colleague from the "Republican Party of Russia - People's Freedom Party" Ilya Yashin.

 

"Nemtsov was shot. He's dead - Yashin wrote on his page on "Facebook".

 

Boris Nemtsov was one of the founders and leaders of the "Solidarity" party, co-chairman of a political party RPR-Parnassus, as well as a member of the Coordination Council of Russian opposition
*  *  *
Life News reporting Nemtsov was shot in chest four times on Vasilyevskiy Spusk, ie, practically on Red Square pic.twitter.com/bxQ7ANGPte

— RussianNavyBlog(ret) (@russiannavyblog)

https://twitter.com/russiannavyblog/status/571426557207523329
The question now: who did it - a retaliation or a provocation, and if so - who is behind it and why? And of course - how will PUtin respond? 
One thing is certain: the full weight of the western media will fall like a ton of bricks on Putin and on what has already been described as Russia's descent "into darkness." 
Russia just got a whole lot darker.

— Mark MacKinnon (@markmackinnon)

https://twitter.com/markmackinnon/status/571431242081705985
More sanctions are imminent, as is the escalation over Syria and the Ukraine conflict.