ZAGG Inc (NASDAQ:ZAGG) creates best-in-class accessories that protect and enhance mobile devices for consumers around the globe. The company offers a broad range of products, from the leading selling industry-standard InvisibleShield screen protectors and mobile keyboards, to power management solutions, mobile audio, and cases. Zagg is the trusted brand that makes products consumers can rely on to make the most of their mobile lives.
Meanwhile, the situation with the price per share shows a upward trendin the last month. Connecting with our predictions, it will continue to grow, that's why we advise to buy company's shares as soon as possible. The evaluations were made with the use ofquadratic regression model based on historic close prices. The coefficient of determination equals 0,87, which means that this model can be used in analysis.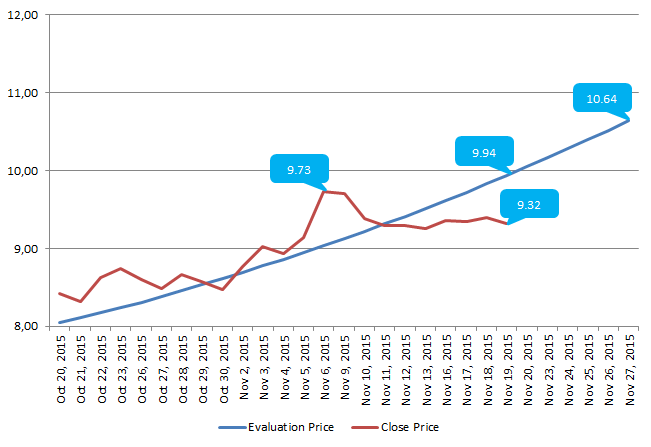 Source: Google Finance, team's evaluations
Paying attention to the financial results of the third quarter, net sales for the quarter increased 11% to a third quarter record of $66.8 million compared to $60.0 million in 2014. This increase was due to continued strong sales of screen protection products, improved audio sales, and expanded domestic and international distribution. The increase in screen protection sales was partially offset by lower sales of tablet keyboards due to overall softness in the tablet market and lower sales of portable power due to the timing of customer launch initiatives in the third quarter last year that will not occur until the fourth quarter this year.
Gross profit improved to $24.9 million, or 37% of net sales, versus $9.2 million, or 15% of net sales in 2014. The increase in gross profit percentage was due to favorable product sales mix, and improved operational efficiencies. Also contributing to the improvement was the fact that during the same period in 2014 the company incurred a $9.6 million inventory write down.
Net income improved to $3.7 million, compared to net loss of $(4.3) million in the third quarter of 2014, with fully diluted earnings per share improving significantly to $0.13 (on 28.9 million fully diluted shares) compared to a loss of ($0.14) (on 30.3 million diluted shares), respectively.