If Anheuser-Busch InBev NV (ABI) can't grab the beer of its choice, it could settle for a Pepsi.
With almost $90 billion in deals over the last 10 years, including the 2008 acquisition of the maker of Budweiser, no other beverage company spends like AB InBev does. Most of the speculation on the $170 billion beer behemoth's next move has focused on the industry's No. 2 brewer, SABMiller Plc. (SAB) A company of AB InBev's size and ambitions has other options though, including PepsiCo Inc. (PEP)
AB InBev and its advisers have long studied whether a merger with the $142 billion soda and snacks company makes strategic and financial sense, said people familiar with the matter. However, no talks are happening now, no deal is imminent, and the scenario is among many it has looked at, one of the people added, asking not to be identified because the information is private. AB InBev should think beyond the beer market, said Albert Fried & Co. That could put Monster Beverage Corp. (MNST)or Keurig Green Mountain Inc. (GMCR), even further away from the brewer's core, on its radar. Either way, AB InBev probably won't walk away empty-handed.
The culture of AB InBev is "really based on doing large deals, making big steps forward," Richard Withagen, an Amsterdam-based analyst at Kepler Cheuvreux, said in a phone interview. "It's all speculation what the next step will be. That there will be a next step seems pretty sure, given that I don't think this company wants to only manage the business and not expand it any further."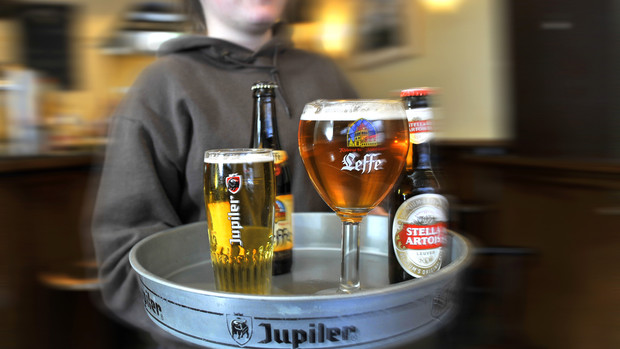 Too 'Boring'
Representatives for Leuven, Belgium-based AB InBev, Purchase, New York-based PepsiCo and London-based SABMiller declined to comment. Representatives for Corona, California-based Monster Beverage and Waterbury, Vermont-based Keurig didn't respond to requests for comment.
A takeover of SABMiller would be "boring," said Sachin Shah, a special-situations and merger-arbitrage strategist at Albert Fried. Regulators would likely force divestitures, and the cost savings from a combination wouldn't necessarily translate to increased value forshareholders, he said.
"Why am I going to pay a higher multiple for more of a business that you're already in that's not necessarily growing?" Shah said by phone. "Anheuser-Busch should become a drinks business, rather than just alcohol and beer."
AB InBev and PepsiCo do know each other well, one of the people familiar with the matter said, citing the companies' bottling arrangement in Latin America. PepsiCo's soda and snacks businesses both hold appeal amid slowing profits in the beer space, the people said. Any deal between the two would have to be friendly.
Shares of Pepsi fell 0.8 percent to $93.94 today.