At the end of last week, 132 S&P 500 members have already reported their Q1 results and analysts are still in conflict whether this season will ultimately end up better than the previous year. Be that as it may, there is some guaranteed good news for investors keen on the Medical sector.
As per our latest Earnings Trends report, among the 16 basic Zacks sectors, while the conventional heavyweights like Finance, Tech, Aerospace or Oil/Energy are pulling the industry-wide average expectation down, there are only 6 sectors that have been predicted to report positive year-over-year growth. Medical is one of them.
For the S&P 500 index, total earnings are expected to be down 9.4% on a year-over-year basis with a 0.8% expected decline in the top line. Medical on the other hand is expected to buck the trend with ease as earnings are expected to grow 2% on impressive top-line growth of 9% for the quarter.
The Medical Product subsector, an integral part of the entire Medical space, is expected to flourish, thanks to the temporary repeal of the controversial MedTech tax. Last week's releases of two major S&P 500 companies – St. Jude Medical Inc. STJ and Stryker Corp SYK – under the sub-segment Medical Products  confirm this bullish trend. Both companies came up with top- and bottom-line beats (see the detailed earnings articles: St. Jude, Stryker).
This week too, some of the big names in Medical Product are warming up for their releases. Let's see what's on the cards for these companies.
Baxter International Inc. BAX, which is set to report first-quarter 2016 earnings on Apr 26, delivered an earnings beat in its last reported quarter. Baxter in the first quarter shall benefit from its expanding product portfolio. The company's newly launched products like SIGMA SPECTRUM infusion pump and AMIA APD cycler with SHARESOURCE two-way connectivity are expected to drive top-line growth in the quarter. Also, IV solutions are expected to perform well in the quarter. Moreover, the ongoing restructuring program will help in reducing operating expenses. However, foreign currency related headwind is expected to weigh on the stock even in the first quarter.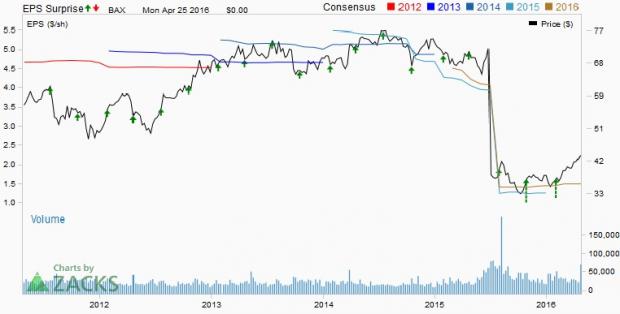 (Read More: Baxter Q1 Earnings: A Surprise in Store for the Stock?)
Medical device major Boston Scientific Corporation BSX is all set to report first-quarter 2016 results on Apr 27.  Like Baxter, the company also exceeded expectations in the fourth quarter of 2015 and is gearing up for another strong earnings season.
Over the past several quarters, pricing pressure had remained a major cause of worry for Boston Scientific. However, on an encouraging note, the company expected this headwind to retract form the very beginning of 2016 on improved price management brought about by market segmentation, tiered offerings and standard cost-reduction programs.
Besides, results will also be backed by the strong momentum at its Interventional Cardiology business, led by an innovative portfolio and MedSurg businesses, led by solid growth in endoscopy, Urology and Women's Health. We also believe that Boston Scientific's recently completed plant network optimization program should drive the company's 2016 adjusted operating margin.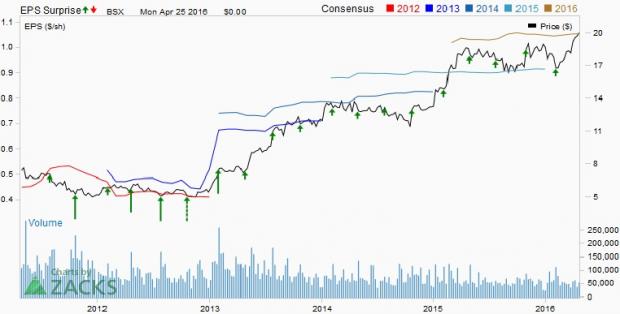 (Read More: Boston Scientific Q1 Earnings: A Surprise in Store?)
We expect Zimmer Biomet Holdings, Inc. ZBH, another stalwart from our Medical Product subsector, to beat expectations when it reports first-quarter 2016 results before the opening bell on Apr 28. Last quarter, this renowned orthopedic reconstructive products manufacturer had reported a positive earnings surprise of 2.45%.
Despite a severe revenue-related headwind in its dental division, we still retain our faith in the company given its promise to find remedies in this matter by the end of the first quarter. Hence, we expect to see a rebound in the company's dental revenue down the line, which may come as early as the first quarter itself. Besides, revenue acceleration is projected across multiple product categories. Also, starting from the first quarter through 2016, Zimmer Biomet expects to realize increasing sales-force productivity.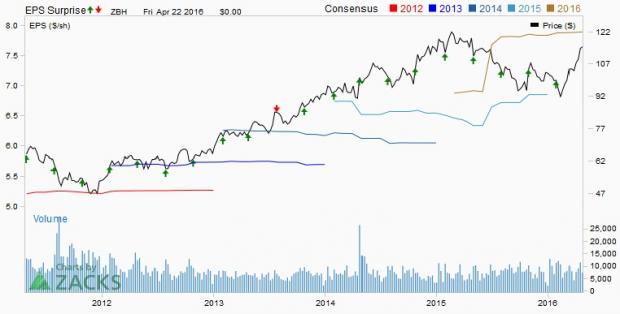 (Read More: Zimmer Biomet Q1 Earnings: A Beat in the Cards?)
Check later on our full write-up on earnings releases of these stocks.
Want the latest recommendations from Zacks Investment Research? Today, you can download 7 Best Stocks for the Next 30 Days. Click to get this free report >>
Want the latest recommendations from Zacks Investment Research? Today, you can download 7 Best Stocks for the Next 30 Days.
Click to get this free report
BOSTON SCIENTIF (BSX): Free Stock Analysis Report
STRYKER CORP (SYK): Free Stock Analysis Report
ST JUDE MEDICAL (STJ): Free Stock Analysis Report
BAXTER INTL (BAX): Free Stock Analysis Report
ZIMMER BIOMET (ZBH): Free Stock Analysis Report
To read this article on Zacks.com click here.