Orbital ATK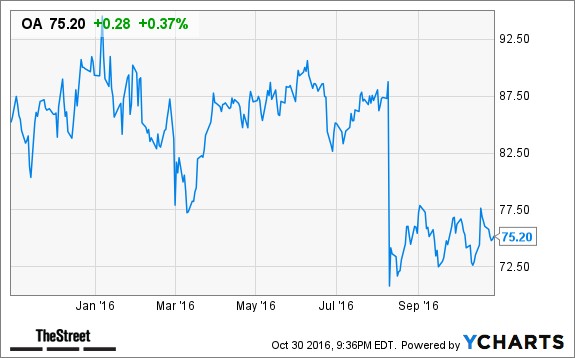 $4.5 billion aerospace company Orbital ATK (OA) is engaged in a modern-day space race, competing against the likes of Elon Musk's SpaceX to provide contract space transportation services to NASA. The firm's Antares launch system made its most recent flight on Oct. 17, delivering more than 3,700 pounds of cargo to the International Space Station.
But while the space business (internally called the flight systems group) may be Orbital ATK's most exciting business, it's not the biggest.
The firm still generates more than 40% of its revenue from the defense segment, providing military hardware like missiles and armament systems. The space systems group also manufactures satellites and the spacecraft used by the company's flight systems group.
SMALL INVESTMENT, BIG POTENTIAL. TheStreet's Stocks Under $10 has identified a handful of stocks with serious upside potential. See them FREE for 14-days.
That diversification makes Orbital much less of a nail-biter than its non-public commercial space competitors, while remaining more of a pure play than massive aerospace firms like Boeing (BA) and Lockheed Martin (LMT) .
While SpaceX has been captivating investors, it's not publicly traded -- and it's unlikely to IPO any time soon based on comments from Musk. At the same time, there's not likely to be just one winner in the commercial space race. NASA has said in the past that it prefers having two vendors with completely different platforms from a redundancy standpoint.
Orbital has a long-term track record, a diversified income statement, and it's been consistently profitable, facts that make Orbital an attractive way to take advantage of the growth in the commercial space industry.
With rising analyst sentiment in shares of Orbital ATK this week, we're betting on this literal Rocket Stock.
Kroger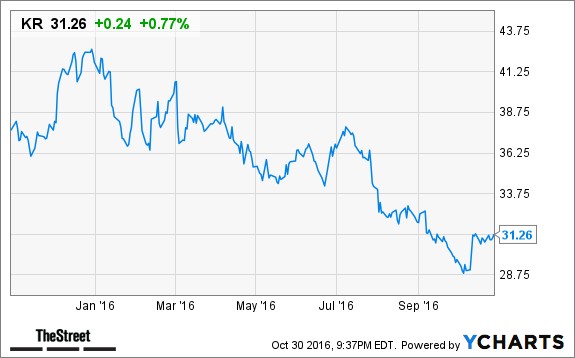 Retail giant Kroger (KR) has been under material pressure in 2016, shedding more than 25% of its market value since the calendar flipped...
More