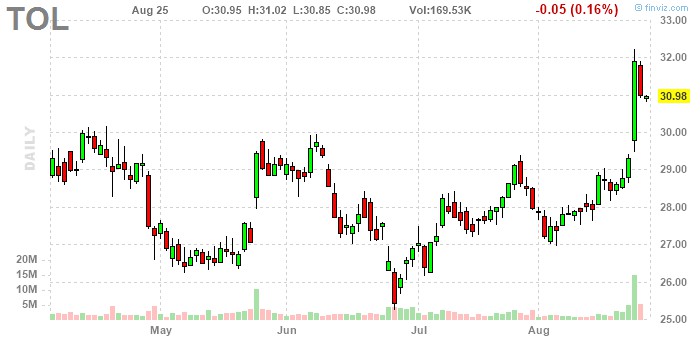 Aren't you glad we're back?  
What a great week to start doing free picks again as we started off with Monday's Toll Brothers (TOL) trade idea, which has already gone from a $300 credit to $1,250 for a $1,550 gain (516%) in 3 days, so you're welcome for that one and it's only "on track" to our full 1,433% expectation so, if you want, you could still play it for $1,550 and look to get the full $4,300 in Jan 2018, which is up another $2,750 (177%) from here – but those are just our table scraps at this point!  
Even if you don't subscribe to PhilStockWorld (PSW), where you get these articles EMailed to you pre-market every morning,
https://twitter.com/philstockworld
or read us on Seeking Alpha, where they had Monday's post ready by 10am - not too bad of a delay for free picks, right?  On Tuesday our 8:38 article was ready on SA at 9:55, just a little behind the Huffington Post (9:36), where we picked up a short play on GameStop (GME) and I called for shorting the indexes:
Still, with the Dollar (/DX) down at 94.30, it should be bouncy here and there's no particular reason for the markets to go higher so I like shorting the Futures, with VERY tight stops, at the following levels:

Dow (/YM) 18,550, S&P (/ES) 2,185, Nasdaq (/NQ) 4,825 and Russell (/TF) 1,242.50.  We can't short the Nikkei (/NKD, now 16,550) because the Nikkei likes a strong Dollar, so it's too risky but a bounce in the Dollar back over 95 will drive Oil (/CL) and Gold (/YG) lower and knock down two big sectors of the S&P. 
Provided courtesy of Phil's Stock World.