The Dollar index has had a good run throughout January, after finding support for a second time just below the 80 level.
<!== INSTRUMENT %% %1440% ==!>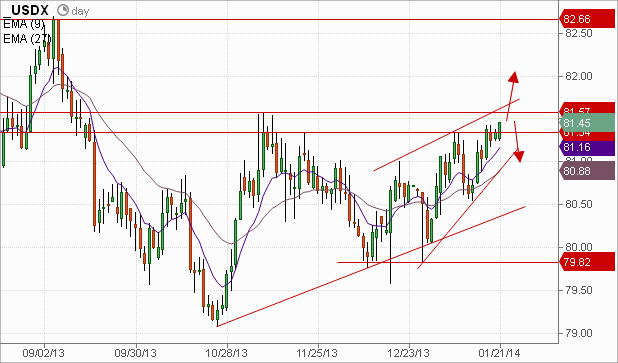 While it hasn't been a straight line, the dollar index (heavily influenced by the USD's performance against the EUR, GBP and JPY) has pushed to 81.45, setting a 2-month high.

Just ahead is 81.60, which was the best the USD managed in the 4th quarter of 2013. Can the Greenback push through that level?

If so it would have a significant impact from a technical perspective and a run towards 82.70 (early September's highs) would be in the cards.

For that to happen, US data as well as FOMC members comments would have to point towards the tapering schedule laid out by Bernanke in his last FOMC press conference.

In the opposite scenario, the 81.60 level acts as a good resistance level and the Dollar faces another wobble. In this case, the tapering schedule is softened - if the data in the US, especially labor and inflation disappoints the FOMC.