Amazom.com, Inc. AMZN recently lost a legal battle against Brikenstock, a German sandal maker, following a ruling by a district court in Dusseldorf. According to German magazine Der Spiegel, which was quoted by Reuters, the court ordered Amazon to stop taking advantage of "typo targeting" to book Brikenstock and other variations of it as keywords through Google AdWords to lure online shoppers.
The ruling came after Birkenstock convinced the court that any of those variations in searches will produce results for Birkenstock shoes sold on Amazon.com. Shoppers may end up buying low quality counterfeits through Amazon, which will eventually damage the company's reputation. This is an instance of typo-targeting ad. This helps online sellers as it helps shoppers find what they are looking for easily through Google.
Per Reuters, Birkenstock alleged that Amazon "failed to proactively prevent" the sale of counterfeit Birkenstock goods on its website. In December 2017, the company said that it will stop selling its products on Amazon in Europe. Birkenstock has already ended its relationship with Amazon in the United States in 2016.
Shares of Amazon have soared 57.8% in the past 12 months, underperforming its industry's 63.3% surge.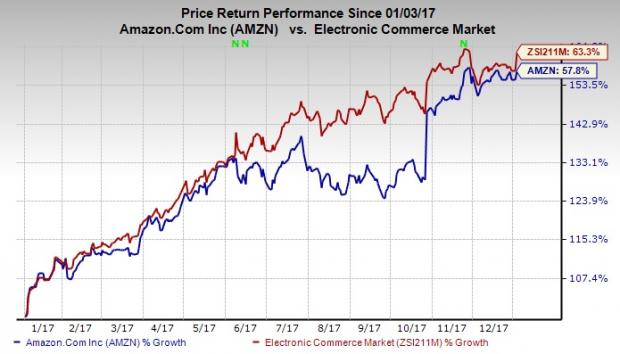 Conclusion
While big brands may build their own online stores over time, a platform like Amazon allows discovery of new buyers. Smaller players are far more dependent on Amazon as they don't have the resources to invest in technology and fulfillment to generate the kind of reach that the company can deliver. Amazon's platform is currently being used by more than 2 million independent sellers.
Amazon has built a solid foothold in the fast-growing e-commerce market and is devising newer ways to attract consumers. eMarketer expects retail e-commerce sales to surpass 16% by 2021 to reach $4.479 trillion. The growth of the e-commerce industry, with consumers increasingly buying things online, is a dynamic going in favor of Amazon.
Moreover, the market is in the early growth phase (considering opportunities in international markets) and the company is likely to sustain high growth over the next few years.
However, this is not the first time that a lawsuit has been filed against Amazon for listing low quality counterfeits on its online marketplace. A lawsuit was filed in the U.S. District Court in Los Angeles in which Daimler accused Amazon of trademark infringement and claimed that the company sells fake Mercedes-Benz wheel center caps. The lawsuit also claimed that Amazon has not taken steps to handle the infringement issue.
Increasing number of lawsuits and restrictions on sale, similar to the one that happened in Europe for luxury items, can hurt the growth prospects of the company. Also, failing to put a stop to copycat products can dent Amazon's reputation and hurt its ties with big brands.
Zacks Rank & Key Picks

Amazon has a Zacks Rank #3 (Hold).

PetMed Express PETS, EVINE live Inc. EVLV and Alibaba BABA are some of the better-ranked stocks in the same industry. While PetMed sports a Zacks Rank #1 (Strong Buy), Alibaba and EVINE carry a Zacks Rank #2 (Buy). You can see the complete list of today's Zacks #1 Rank stocks here.

Long-term earnings growth for PetMed, EVINE and Alibaba is projected to be 7%, 3% and 30.7%, respectively.

Investor Alert: Breakthroughs Pending

A medical advance is now at the flashpoint between theory and realization. Billions of dollars in research have poured into it. Companies are already generating substantial revenue, and even more wondrous products are in the pipeline.

Cures for a variety of deadly diseases are in sight, and so are big potential profits for early investors. Zacks names 5 stocks to buy now.

Click here to see them >>

Want the latest recommendations from Zacks Investment Research? Today, you can download 7 Best Stocks for the Next 30 Days.
Click to get this free report
PetMed Express, Inc. (PETS): Free Stock Analysis Report
Amazon.com, Inc. (AMZN): Free Stock Analysis Report
Alibaba Group Holding Limited (BABA): Free Stock Analysis Report
EVINE Live Inc. (EVLV): Free Stock Analysis Report
To read this article on Zacks.com click here.
Zacks Investment Research